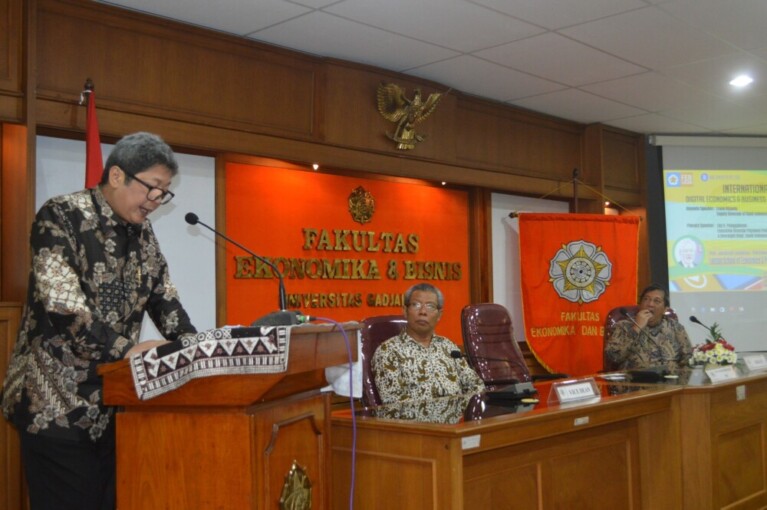 Applied Economics Study Program, Department of Economics and Business, UGM Vocational School has invited Senior Professor from Germany, Prof. Walter Richard Maier, to participate in the discussion and preparation of curriculum, public lectures, community service, workshops, and other activities in order to improve the quality of education at the Vocational School. Prof. Maier became the third professor who attended the Vocational School in collaboration with the Senior Experten Service (SES) of Germany.
Cooperation between UGM and SES was started at the end of 2014 to provide the best vocational education in Indonesia. Cooperation that was initiated by Adam Pamma as representatives of SES Germany in Indonesia leads to the scheme to bring Senior Professor or Senior Expert from Germany and some other European countries to UGM Vocational School to provide assistance to the teaching staff and some of the important essence in vocational education institutions, such as curriculum, practicum based teaching methods, laboratory and field activities, and so forth.
"Germany has high quality vocational education so we hope that can be adopted by the vocational education in Indonesia and this Vocational School in particular," said Hotma Prawoto as Director of Vocational School UGM at the Welcoming Ceremony, Monday (5/9).
Until now, according to Hotma, this cooperation has been giving good impact and positive change, especially for the study programs. Therefore, the cooperation is expected to continue in the years to come.
Earlier, in 2015 and February 2016, the Department of Civil Engineering and Department of Mechanical Engineering of Vocational School invited Prof. Bert Hofmann and Prof. Wolfram Franz Stanek. Unlike the previous two guest professors who concentrate on engineering, Prof. Maier's concentration is in the field of social sciences and economics, particularly administrative and constitutional law, taxation, international taxation law, and public policy related to finance.
The professor who serves as Prorector and Dean at the University for Public Administration and Finances Ludwigsburg will collaborate with the Applied Economics Study Program from September 5 to 30,2016.
In the future there will be 5 Senior Professors from Germany to come to UGM Vocational School, including Dr. Franco Miralles for Computer and Information Systems Study Program, Mr. Klaus Gengenbach for Tourism Study Program, and Mr. Klaus Buschhoff for Remote Sensing and Geographical Information Systems Study Program. (UGM / adelily)