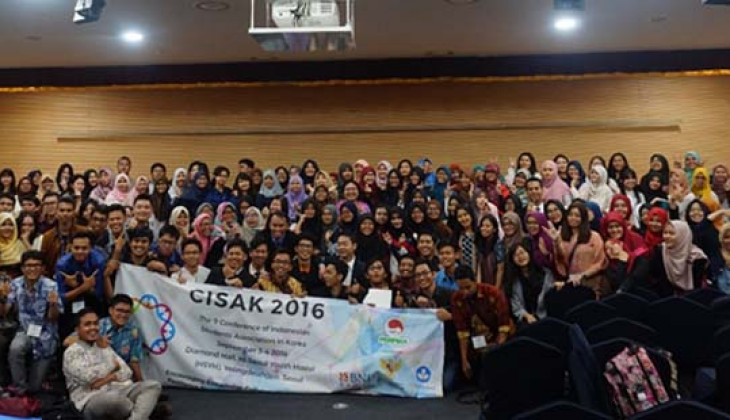 Three student teams from Faculty of Biology UGM had the chance to publish their research in the Conference of Indonesian Students Association in Korea (CISAK) from 3-4 September 2016 in Seoul, South Korea. The first team comprising Nailil Husna and supervisor Dr. Niken Satuti M. Sc. from Genetics Lab; Entomology group comprising Danu Ardiancahyo, Atikah Fitria M., and Ahmad Al Arif with Dr. R.C. Hidayat Soesilohadi, M.S., as supervisor; and Marine Studies team comprising Dewi Permatasari, Pretty Khoirunnisa, Muhammad Azri, Ayu Safitri, Achmad Baihaqi, and Kirana Dira Anjani.
Pretty Khoirunnisa said CISAK was an annual conference run by the Indonesian Students Association in South Korea (Perpika) as a forum for them to publish their research. This year over 700 papers from Indonesian universities were submitted. "After a selection, three papers from UGM got through to be published," said Khorunnisa to journalists on Tuesday (13/9).
The UGM team finally earned the Best Oral Presentation award for the paper titled Seaweed Abundance and Diversity in Porok Beach, Gunungkidul, D.I. Yogyakarta. The Genetics Lab publishes the Comparative Study of Thalassemia Trait Diagnostic Through Hematogical and HPLC Assesment while the Marine Studies team with Studies on The Diversity and Play Role of Lepidoptera in Cocoa Crop, Nglanggeran, Gunung Kidul District of Yogyakarta Special Region in the poster presentation.
Nailil Husna hoped their research would benefit the society. "We want our research to benefit science development that can be applied among society," she said.