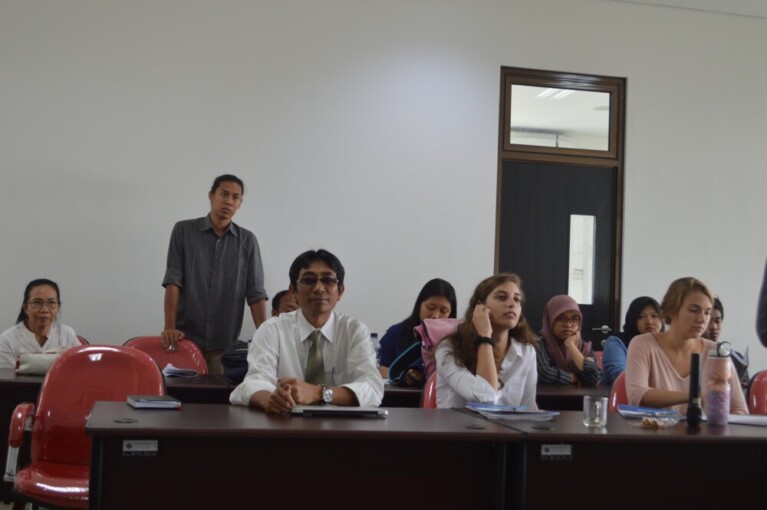 Faculty of Veterinary Medicine UGM targets to achieve international accreditation from the Royal College of Veterinary Surgeons (RCVS) in 2019. Therefore, the faculty has applied for the accreditation while making improvements in the development of quality assurance, research and community service. This was delivered by the Dean of the Faculty Dr. drh. Joko Prastowo, M.Si., after giving a speech at the celebration of Faculty's 70th anniversary, Tuesday (20/9).
Joko said that to stabilize the international accreditation application process, the Faculty has recently established cooperation with the School of Veterinary Sciences of the University of Liverpool, England who will be a partner in providing accreditation assessment. "In 2019 we are targeting international accreditation in line with the mission of the campus to enter the top universities ranking in the world," said Joko.
The recognition of international accreditation, said Joko, can later be used as a reference for other veterinary medical education institutions in Indonesia in the management of curriculum, educational organization and the learning process. According to the man, the sustainable development of quality is done through the mechanism of PDCA (plan, do, check, action) by establishing the quality assurance unit of the Faculty.
The existence of a quality assurance system has made the veterinary study programme to achieve ISO 9000: 2008 from TUV-Rheinland and ASEAN University Network-Quality Assurance (AUN-QA) certification. "For information, veterinary study program UGM is the first study program in Indonesia getting certified by AUN-QA," he added.
Anthrax Vaccination
In addition to development of academic quality, the Vice Dean for Research, Community Service and Cooperation of the Faculty, Dr. drh. Soedarmanto Indarjulianto, said that currently UGM is focusing on distribution of research. One of which is Durante, carrion detection devices, developed by Dr. drh. Yatri Drastini, M.Sc. "Currently, it (Durante) is managed by Directorate of Business Development and Incubation UGM to be mass-produced for the industry," he said.
He added the Faculty also responded to issues of sustainability and food safety. Not long ago, the issue of meat infected with anthrax in Pacitan, East Java, attracted the attention of veterinary researchers. In fact, the issue caused some residents to worry about their sacrificial animals of getting infected with the anthrax. "We sent students and veterinary inspectors to Pacitan, we found there were people who were afraid to eat meat due to the anthrax issue. After being examined, the healthy cows were slaughtered," he said.
Although anthrax is still a rumour, the Faculty and the Center for Veterinary Medicine plan to conduct anthrax vaccination program soon to anticipate and prevent the spread of anthrax in Pacitan.