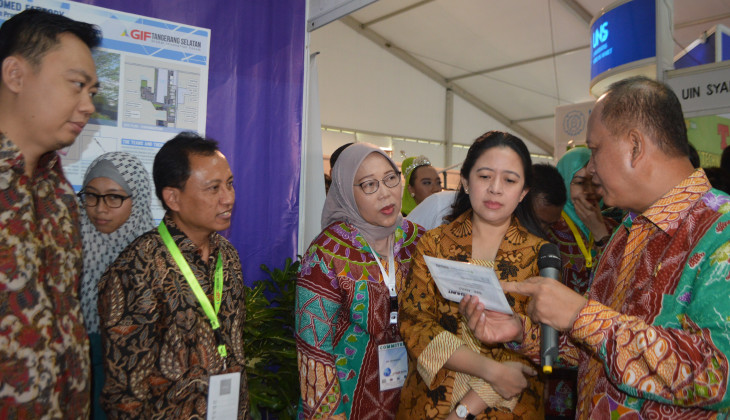 Co-ordinating Minister for Human Development and Culture, Puan Maharani, said that innovation development was important to do to drive nation's progress. The government, therefore, would encourage people to enhance research and innovation development that are beneficial for human beings.
"The government continues to support collaboration between academics, industry, and society to enhancing technology innovation and development that are beneficial for human beings," she said on Wednesday, opening the South Tangerang Global Innovation Forum (TGIF)' in Graha Widya Bhakti, Science and Technology Research Centre (Puspitek), in Tangerang Selatan.
The government would encourage from research to industrialisation and commercialisation of research outcomes. The construction of Science Techno Park (STP) across Indonesia is one government's drive to innovations.
Minister Puan, accompanied by Mayor of South Tangerang, Airin Rachmy Diany, later paid a visited the 'South Tangerang Hi-TechFair 2016', including the booth of Universitas Gadjah Mada (UGM). She observed the research and innovation products by UGM researchers, lecturers and students in health, ITC, and food. These come in the form of hydrocephalus teraphy tool, Gamatechno Smart City Solution, herbs, and food products.

TGIF was attended by up to 1,000 participants from 47 states that are members of World Technopolis Association (WTA). It was organised by the Research and Technology Ministry and UNESCO and WTA as well as South Tangerang local government to enhance networks in innovation and cooperation between academics, government, and industry. The event runs from 20-23 September in Puspitek, Serpong.