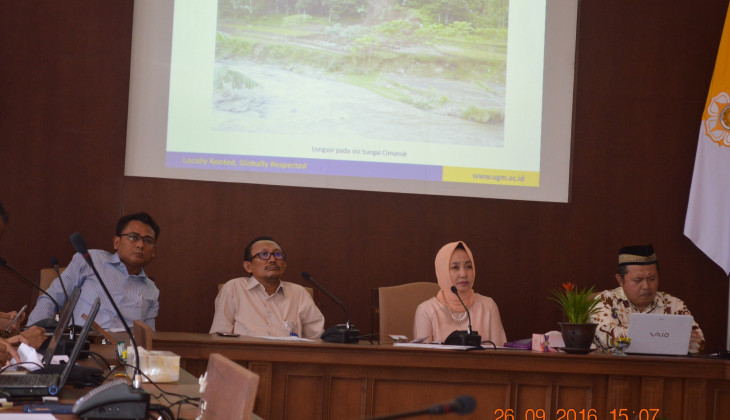 Experts from Universitas Gadjah Mada have the opinion that the cause of the flash flood inundating Garut regency in West Java recently is not only natural factors, but also the change in land use which is not in line with their natural condition.
Rector of UGM, Prof. Ir. Dwikorita Karnawati, M.Sc., Ph.D., said the flooding can happen because the Garut area looks like a basin, surrounded by seven volcanoes that make water flows to one stream. This condition is exacerbated by the Cimanuk watershed that experience sedimentation.
"The precipitation was high with 255 millimeter intensity, in addition to the preceding rains that made the soil saturated and blockade of sewerage," said Dwikorita Karnawati at UGM conference room on Monday (27/9).

The Rector warned that such flooding may happen in other areas of Indonesia. She called for people to be on alert and anticipate against similar occurences.
Studies made by UGM in various disciplines have found that the flooding in Garut was due to natural as well as non-natural causes. Government and society, thus, need to be prepared with early warning system.

For mid-term and long term plans, review of the spatial planning can be done as well as alternative to social-economic activities of the people in using the land.
Prof. Dr. rer.nat. Muh. Aris Marfa'i, M.Sc, Vice-Dean for Research, Community Service, and Cooperation of Faculty of Geography UGM, said Garut is not apart from the Cimanuk watershed. It is surrounded by volcanoes that trigger the flood and landslide.
"The Garut phenomenon is like a basin. During a high precipitation, all the water will accumulate in one river flow," he said.
Other geological expert, Dr. Eng. Wahyu Wilopo, S.T., M.Eng, said the volcanic material sedimentation had caused the landsliding due to the high erosion that made sedimentation of rivers. "The watershed of Garut has exceeded its capacity, being exacerbated by the landslide and sedimentation, hence accelerating the flash flood," he said.