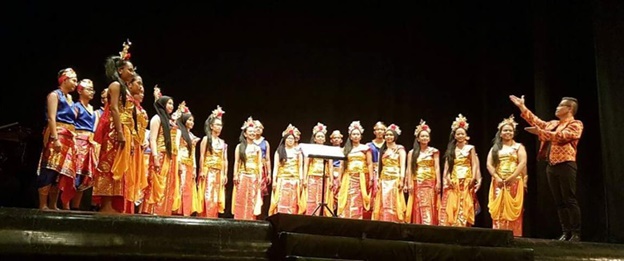 Student Choir Team of Universitas Gadjah Mada successfully won a prestigious achievement at the International Choral Competition (ICC) 2016 in Rimni, Italy. In the competition that took place from September 22-25, 2016, the UGM choir won the Gold medal in the Level 1 Diploma and Silver medal in the Level 2 Diploma.
Chairman of the team, Aprilo Ade Wismoyo, said that UGM team won 2nd place in the category of sacred music (gold diploma level 1). In addition, they also succeeded in occupying the second position in the category of gospel and folklore (gold diploma level 2). This competition was followed by 19 choirs from various countries in the world.
"UGM secured the silver medal in ICC Italy," said Aprilo who is currently still in Italy in a text message sent on Wednesday (28/9).
In the ICC, UGM sent 27 singers, 1 conductor, accompanied by three officials and one supervisor. They performed a number of songs in several categories, including O Magnum Mysterium, O Nata Lux, Ubi Catiras, and Gloria Patri in the category of sacred music. While in the category of gospel and folklore, they featured Ugo-Ugo (Banyuwangi), Benggong (NTT), Tak Tong Tong (Padang) and Let Me Fly.
"In the Grand Prix category, UGM brought repertoires of Ergebung, Io Mi Son Giovinetta, and Qontrr Qui, Rose," he explained.
Aprilio explained that this competition present five experts in the field of choirs from different countries to be the judges. They are Eriks Ešenvalds from Latvia as President of the jury, jurors Anatoly Kiselev from Russia, and Manolo Da Rold from Italy, Margrethe Ek from Norway and Fabio Pecci from Italy.
Meanwhile, UGM choir supervisor, Antari innaka, SH, MH, said that they were proud of their achievements. The success could not be separated from the efforts and hard work that was done in addition to the support from university which has facilitated the training and preparation of students to enter the competition.
"Thank you for your prayers and support. Hopefully, we can continue to excel for the sake of UGM," she said.
International Choral Competition 2016 is the third international competition followed by UGM. Previously, they participated in A Voyage of Song (Avos) International Choral Festival in Bangkok, Thailand in 2013, and won a silver medal in the Mixed Voices Choir category, a gold medal and Best Scenic Folklore in the Folklore category. Back in 2010, the International Choral Competition at ITB, Bandung, the team secured the silver medal in the folksong category.