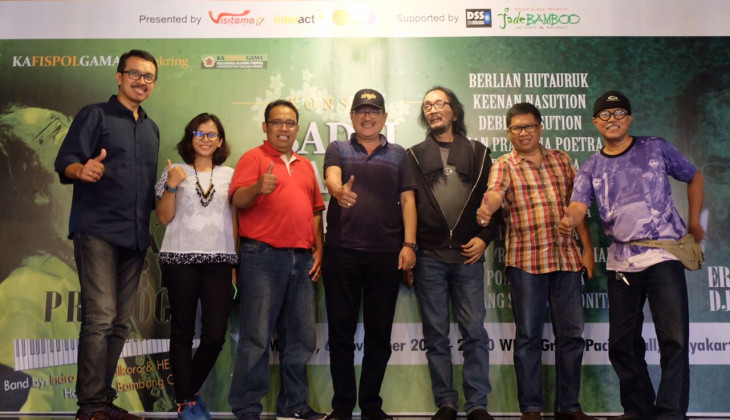 A music concert titled Kafispolgama Ngangkring: Konser Badai Pasti Berlalu Plus 'Yockie Suryo Prayogo' Yogyakarta will be staged on 6 November in Yogyakarta as part of the 61st anniversary celebrations of Faculty of Social and Political Sciences UGM.
Yockie, senior musician, said the concert was to present Indonesian music portfolio of the 70s. "Indonesian music revolution took place at that time (70s period). Hopefully, the music revolution can be done again by the young generation in line with the time," said Yocki in a press conference on Friday (30/9) in Jade Bamboo Resto.
Eros Djarot, another senior musician, interprets the concerts as a nostalgic romanticism of the past. Hopefully, the young generation can understand and appreciate the non-instant music of the past.
One representative from the alumni of the Faculty, Ian Agisti, said the idea came up among the alumni who had enjoyed the 70s music. Adam Tirta, one event committee members, said the concert was to minimise the gap between the older generation with the millenial generation.
"We hope the current generation can listen and appreciate the Indonesian music legends from the 70s. We also want to show that Faculty of Social and Political Sciences UGM cares about music and musicians," said Adam Tirta.
On the concert, 5% of the ticket sales will be contributed to the scholarship grants for current students of the Faculty. Songs that will be presented there include hits "Badai Pasti Berlalu", songs from the Lomba Cipta Lagu Remaja (LCLR) contests between 1977-79 as well as hits from Yockie Suryo Prayogo. Eros Djarot will perform accompanied by senior singers such as Berlian Hutauruk, Louise Hutauruk, Keenan Nasution, Benny Soebardja, Debby Nasution, Fryda Lucyana, Dian Pramana Poetra and Kadri Muhamad, in addition to younger singers, Andy/rif, Pongki Barata, Gilang Samsoe, Bonita, and Aryo Wahab.