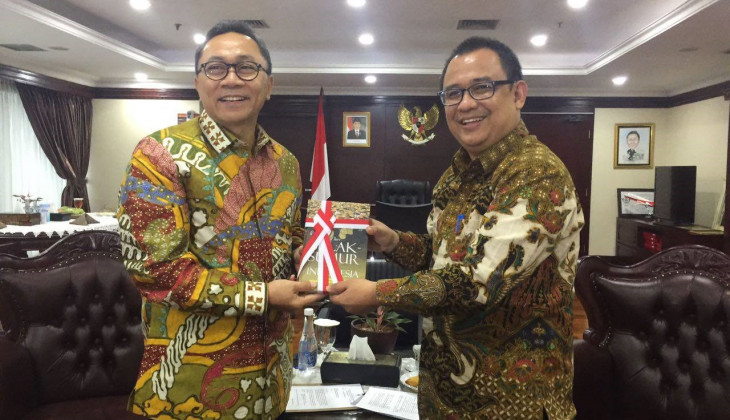 Alumni association of Universitas Gadjah Mada (KAGAMA) are ready to support the MPR in disseminating the value of Pancasila, State Guidelines, the Unitary State of the Republic of Indonesia, and Bhinneka Tunggal Ika motto. This was affirmed by Secretary General of KAGAMA, Ari Dwipayana, when calling on Speaker of the House of Lords (MPR), Zulkifli Hasan, at the parliamentary compounds in Senayan, Jakarta, on Tuesday (4/10).
Ari Dwipayana said KAGAMA was reviewing many studies, including on disasters, competitive power of the nation, poverty alleviation, democracy, pluralism, and energy.
"We're ready to socialise the four consensus of the nation," he said.
During the meeting, KAGAMA presented books 'From Bulaksumur to Indonesia', produced by alumni of UGM that contains thoughts on problems affecting the nation.
Zulkifli Hasan welcomed the visit and the book presentation. This will be made a reference for the House to do reviews. He saw that in spite of the 18 years of the reform era, some noble values of the country have eroded.
"We have Pancasila and other noble values, but these are not implemented," said Zulkifli.
Thus, Zulkifli added, the House would socialise the four state pillars. He admitted the work would not run optimally if done by themselves. So, they will form a collaboration with various universities in the country, including UGM.