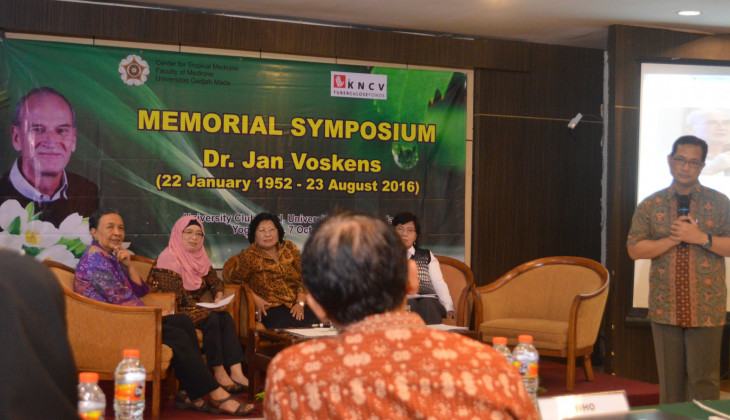 Indonesia has lost one influential figure in Tuberculosis eradication, dr. Jan Voskens, Director of KNVC Indonesia,who died on 23 August 2016 in the Netherlands after a one-year illnesses.
Having special ties with dr. Jan Voskens and KNCV in TB eradication in Yogyakarta, Faculty of Medicine UGM hosted a Memorial Symposium for Dr. Jan Voskens (22 January 1952 - 23 August 2016) in the University Center UGM on Friday (7/10).
In a talk show titled Jogjakarta and Jan Voskens, panelists were present, including Prof. Adi Utarini, Dr. Ning Rintiswati, Dr. Sri Retno Irawati, Dr. Andajani Woerjandari, and moderator, dr. Yodi Mahendradhata. Speakers were Dr. Yodi Mahendradhata (UGM), Dr. Asik Surya, MPPM (NTP-MOH), Dr. Setiawan Jati Laksono (WHO Indonesia), and Dr. Kitty Van Weezenbeek (Director of KNCV), and moderator, Dr. Ari Probandari (UNS).

Tri Lestari, MED, M.Med., Sc., researcher from Center for Health Policy & Management at UGM said together with Jan Voskens and KNCV, in Yogyakarta year 2000 the Hospital DOTS Linkage (HDL) was established. It is a network of hospitals and community health centres in Yogyakarta. Committee of DOTs later was established in the city. "HDL is a forum for TB problems consultation in Yogyakarta. HDL has increased case findings up to 50%," she said.
According to Tri Lestari, HDL and DOTS committee had become a model of hospital engagement strategy in TB control in the country. Based on good cooperation, other collaborative activites have grown, including TB-HIV research, evaluation of private sector in TB control and mentoring on strategies for national TB control.

KNCV has also been involved in Gen Xpert provision, a diagnosis tool to find Multi Drug Resistant TB which is fatal and hard to cure. The Laboratory at Faculty of Medicine UGM has served thousands of TB patients and treated the disease better.
"The demise of dr. Jan Voskens means a loss of a true partner in TB control in Yogyakarta. That's why we want to remember his works and continue them in terms of TB control in Yogyakarta," she concluded.