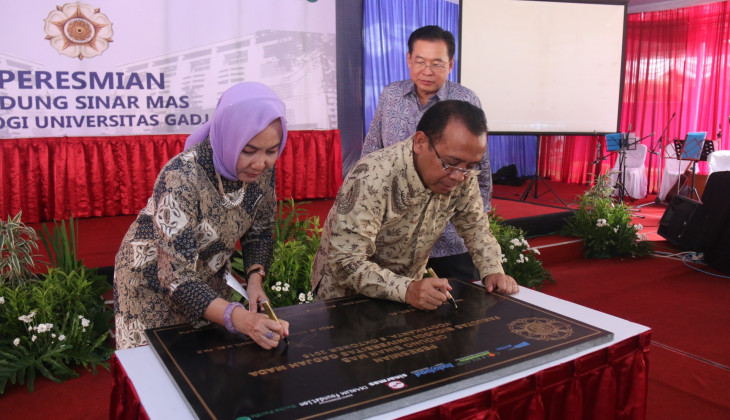 Sinar Mas building of the Faculty of Biology was inaugurated on Saturday (8/10). The new building opening ceremony was attended by all invited guests, such as Board of Trustees Chairman, Prof. Dr. Pratikno, Managing Director of Sinar Mas, G. Sulistiyanto, UGM Rector, Prof. Ir. Dwikorita Karnawati, M.Sc., Ph.D., and Board Member of Sinar Mas who is also Chairman of Sinar Mas Agribusiness & Foods, Franky O. Widjaja.
UGM Rector, Prof. Ir. Dwikorita Karnawati, M.Sc., Ph.D., expressed her gratitude for the completion of construction of the new building. With the completion of the new building, advancement is expected, especially in the field of research and community service of Faculty of Biology.
"With the cooperation of various parties, UGM will continue to jump and go forward despite many challenges, one of which is limited budget," said Dwikorita.
Rector confirmed the completion of the new building coincides with the UGM turning 67 years old this eyar. At this age, UGM re-affirms its identity as a populist and university of struggle with socioentrepreneur spirit.
Meanwhile, Managing Director of Sinar Mas, G. Sulistiyanto., said that the Faculty of Biology is one of the faculties that focus on the future. For that Sulistiyanto hoped the UGM would collaborate with business world to improve the results of research that benefit society.
"The development is expected to produce biodiversity," said Sulistiyanto.
In the same place, Chairman of the BoT UGM and Secretary of State, Prof. Pratikno, said that more research needs to benefit society. "Medication, for example, could be much cheaper when many studies are able to synergize with the needs of the community," he said.
Health, according to Pratikno, should get more attention because communities need and the cost of treatment in Indonesia is still very high. Pratikno hoped that eventually there will be more synergy among parties.
Sinar Mas Building has an area of more than 5,800 m2 consisting of 5 floors of which contains three classrooms, laboratory of systematics of plants, laboratory of plant physiology, laboratory of Microtechnical plant, laboratory of plant taxonomy, biology general laboratory, teaching laboratory, a library and room monitoring. The first stone was set on June 13, 2015. Sinar Mas Building in the Faculty of Biology is the first green building in Yogyakarta.