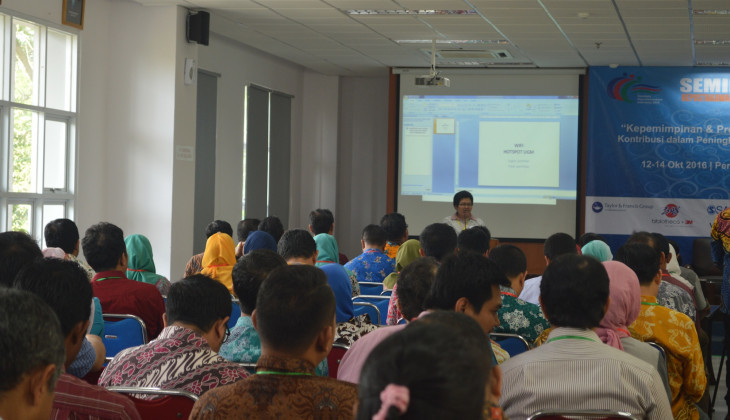 Forum for Indonesian Higher Learning Library (FPPTI) in cooperation with UGM Library hosted seminars and workshops from 12-14 October 2016 themed Leadership and Professionalism of Librarians: Contribution to Enhance Higher Learning Quality at UGM Library, attended by 180 participants from university libraries in the country.
Events that are run include seminars, workshops, satellite meeting, and working meeting to share knowledge. It is expected that policy recommendation for library development in universities can be produced.
Head of UGM Library, Dra. Nawang Purwanti, M.Lib, said on Wednesday (12/10) after opening the event that the event was attended by information provider partners from Singapore, Malaysia, and the UK, such as Taylor and Francis, Wiley, EBSCO, Proquest, as well IT supporting products for the library, such as applications RFID, Emerald etc. It was a good opportunity for UGM to improve communication and networks.
Imam Budi Prasetyawan, chairman of FPPTI, welcomed the annual event. Now with three more areas - East Kalimantan, Banten and Lampung - the scope of FPPTI has now reached 12 areas of Indonesia.

Arif Surahman, S.I.P., M.B.A, event chairman, hoped all participants would join all programmes that are offered to improve their library advancement.
Speakers are Prof. Dr. Ainun Naim from the Higher Learning Ministry, submitting a topic titled Policy of Higher Learning Ministry to Support Qualified Higher Learning Library, Drs. Syarif Bando, M.M. (Head of National Librabry), with a topic Strategy of National Library to Improve Quality of Librarians, Dr.Joko Santoso, M.Hum., with a topic Prospects and Policy of National Library to Support Resource, Sharing and Collaboration between Higher Learning Libraries, also Role of Librarians and Library for Quality Enhancement of Higher Learning by Faizzudin Harliansyah, S.Ag., SS., M.I.M.