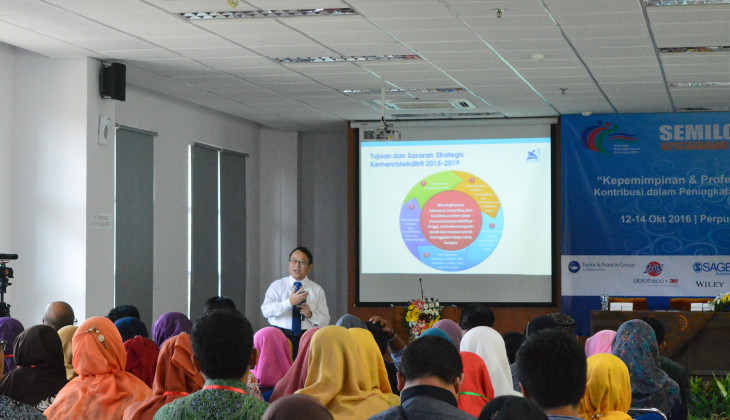 The development of information and communication technologies makes knowledge transfer becomes easier. Young people began to leave physical books and switch to e-book that can be accessed anywhere online. Therefore, in this digital age, the function of the library as a service provider of information and knowledge is changing.
"Libraries have to change its paradigm to technology-based and develop themselves so that it could survive and remain as learning resource for the nation," said the Vice Rector of Academic and Student Affairs, Prof. dr. Iwan Dwiprahasto, M.Med.Sc., Ph.D., in Indonesian Librarianship Workshop 2016, on Thursday (13/10) at the UGM Library.
Representing the Secretary General of the Ministry of Research, Technology and Higher Education, Prof. Ainun Na'im, Ph.D., MBA, in the main session of this seminar, he delivered a keynote speech regarding policies of Ministry of Research, Technology and Higher Education, in supporting the development of a quality college library.
The library, according to the man, became one of the important pillars for education in university. Therefore, it is necessary for university to pay attention to the management and development of libraries, both in terms of availability of books, access to international scientific journals, the application of technology, and the human resources.
"What could make us smarter, let us out of ignorance is library. Librarians' challenge now is whether one can stand and say to the academicians that their needs can be found in the library," he explained.
The quality of the library in university, he continued, have an important role in supporting the advancement of sciences by providing the relevant references to support the research.
"Currently, our research publications are still far less than those of other countries. In fact, the dignity of science Indonesia can be seen from its publication," he added.
In line with this, the head of National Library of the Republic of Indonesia (PNRI), Drs. Muh. Syarif Bando, MM highlighted the importance of understanding the new concept of librarianship, which could accommodate the changes that the world faces.
"We must fight ourselves that prevent us from changing. We should find what is wrong, and fix it," he said.
On this occasion, he delivered materials related to PNRI's strategies to improve the quality and competitiveness of Indonesian librarians. He mentioned that the issue of quality of labor remains an important issue in Indonesia. Specifically related to librarians, Indonesia still lacks of librarians with library science background. In fact, the capabilities and skills of librarians become essential to the viability and effectiveness of a library, including in understanding the needs of the community where the library is located.
"Books preferred in Kalimantan and in Jogja are certainly different, because the potential and needs in each area is different. We as librarians must understand this," he said.
Therefore, in the future the development of both formal and non-formal education in library is necessary. It is expected that the library can fulfill its role to support the future of this country. (UGM/adelily)