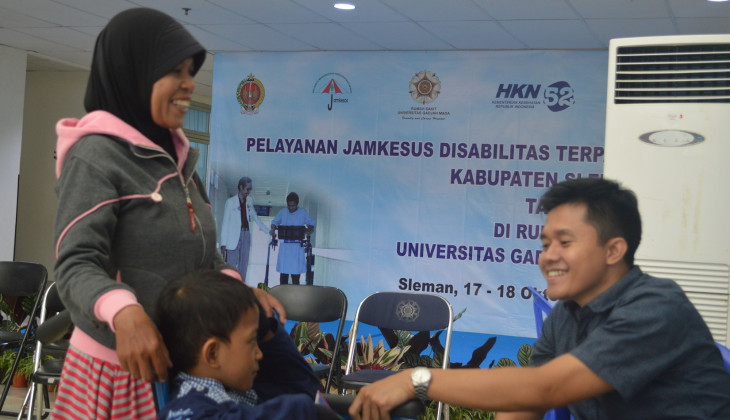 As many as 250 people with disabilities from 7 sub-districts of Sleman regency have received Special Health Security (Jamkesus) at Universitas Gadjah Mada Academic Hospital (RSA UGM). The integrated service from the Social Agency and Health Agency of the province collaborated with local health services and stakeholders for the event that last from 17 - 18 October 2016.

Prof. dr. Arif Faisal, Sp.Rad(K).,DHSM, Director of the Academic Hospital, said on Monday (17/10) that the service included recommendations, security, services, as well as health check by medics. The disabled people will then receive supporting tools based on the medical recommendation, such as wheelchairs, artificial legs and arms, glasses, hearing aid, etc.
Drg. Inni Hikmatin, M.Kes, Public Relations Officer of the Health Agency, said the state laws have mandated them to give health services to people with disabilities.
Agus Priyanto, SKM., M.Kes, Head of Health Sustainability in the Yogyakarta Social Security office expressed his gratitude following the sustainability of health access programme for the disabled people that makes it easier for the people to have access to health services. According to Agus, these people not only receive medical treatment, but also economic empowerment where they would be given training for skills such as animal breeding, sewing, computer, music, etc.
"Training is given in Pundong area, Bantul regency, which has facilities for that. We hope in the future the Manpower Agency would provide job opportunities for the people," he said.
Agus cited WHO data that say as high as 3 percent (105 thousand) of population in Yogyakarta are people with disabilities with 30,000 of them being underpriviledged.