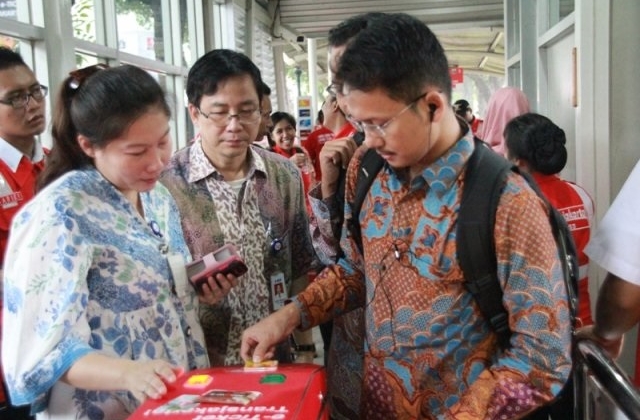 PT Aino Indonesia (Aino), a subsidiary of PT Gamatechno Indonesia, a business unit of PT Gama Multi Usaha Mandiri, fully supports the Bank Indonesia National Movement of Non-Cash (GNNT) by providing customized solutions of electronic money, especially for public transport which suits to the characteristics of electronic money that is intended for micropayment and quick transactions.
President Director of PT Aino Indonesia, Hastono Bayu, said by maximizing inter-usability, inter-modality, inter-availability, and the inter-operability of electronic money cards in the city, the use of cash and extortion practices can be minimized.
"Currently, AINO is the nation's first and only one system integrator in Indonesia that has integrated 6 electronic money banks in the payment acceptance system (Joint e-Money Reader)," said Hastono, Wednesday (2/11) in the press release.
He explained that since 2013, AINO is a financial technology company that builds multi-platform payment acceptance as solutions of integrated Less Cash City. With a portfolio of e-ticketing system of Trans-Jogja bus, Trans-Solo, and Trans-Jakarta, various tourist rides, parking payments of Terminal 3 Ultimate at Soekarno Hatta Airport and the toll road payment in Juanda toll roads and payment solutions for roadside parking at Electronic Parking Terminal Jakarta.
"In 2015, Aino has listed 102 million of electronic money transactions, the equivalent of 19% of the national electronic money transactions," he said.
To further extend the benefits of the system, Aino gains the trust of investors such as Frontier Capital, IndoGen Ventures, Semeru Venturra Indonesia, and PT Saga Mas. With the motto "Delivering New Hope", Aino's solutions are ready to embody the vision of city leader to welcome the advanced, transparent, cashless, and accurate transaction in the urban community.
Aino Payment Platform is ready to establish strategic cooperation with publishers of electronic money, service providers, retailers, and users of electronic money in general to realize Less Cash City system. With a national product, Aino seeks to contribute to the people of Indonesia in particular. (UGM / adelily)