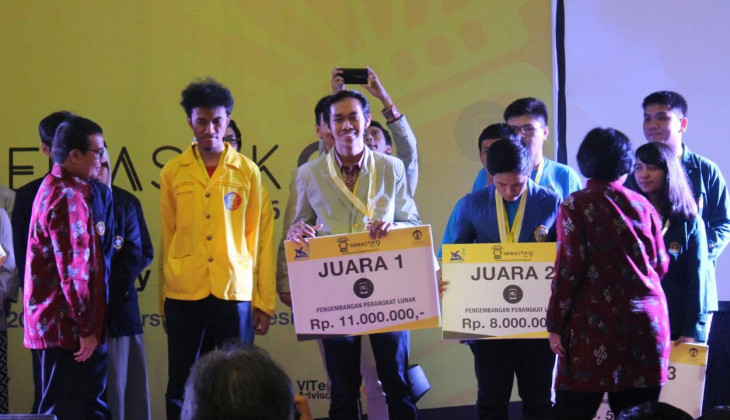 A delegation of Universitas Gadjah Mada (UGM) has brought home a gold medal and best poster award at the 9th National Student Competition in ICT (Gemastik) from 27-29 October 2016 at Universitas Indonesia Jakarta.
The gold has been won by the Rang-Rang team, consisting of M.Z. Pudya Wardana, Fajar Ulin Nuha, and Rahmat Albariqi, in the software development category. The best poster award has been won by Snorlax team with members: M. Adda Yusrul M., M. Iqbal A., and Fathin Naufal N.A.
Mardhani Riasetiawan, supervisor of the teams, appreciated their work and the 12 teams that have gone through to the finals of Gemastik 2016. Their hard work has paid off and made the university proud. Mardhani expressed his pride over the achievements that can motivate the teams to do better in the future.
"I hope this achievement would inspire the students to be better in future competitions," he said on Thursday (3/11).
Similarly, Head of UGM Student Creativity Sub-directorate, Ahmad Agus Setiawan, S.T., M.Sc., Ph.D., said he hoped the achievement would trigger UGM students to prepare better in the future. UGM is always ready to support and facilitate the students with training and mentoring to strengthen their quality and mentality to face competitions.
Gemastik is an annual national competition in ICT organised by the Ministry for Research, Technology, and Higher Learning. This year as many as 2,307 teams from 113 Indonesian campuses joining the competitions.