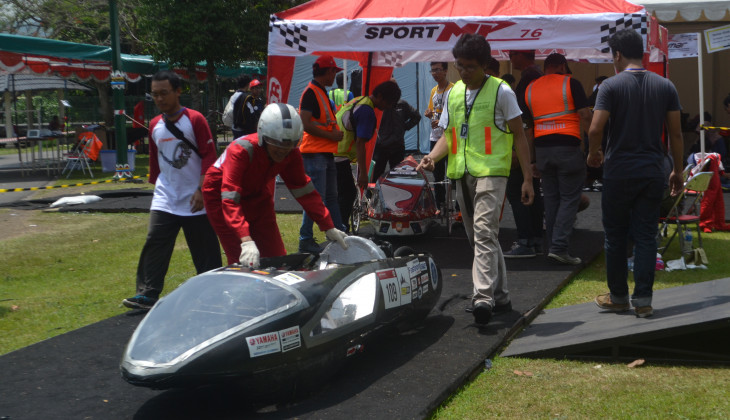 Energy Efficient Car Contest (KMHE) held by Universitas Gadjah Mada in Prambanan Temple complex entered its second day, Thursday (3/11). A total of 59 cars which consist of two types of cars - urban and prototype - get the opportunity to join five races. Each category is further divided into four types of sources of energy, namely electricity, gasoline (petrol), diesel, and ethanol. In this year's contest, UGM sent three cars, namely Semar Urban Gasoline to contest in urban concept category and Semar prototype Diesel and Semar prototype Electric in the prototype category.
Other campuses also helped enliven this competition by presenting some modifications to their cars. One of the cars competing in the prototype category with gasoline fuel is "si Pitung". As the name implies, the legend of Betawi (Jakarta) is expected to win KMHE 2016. "In accordance with its name which is legendary, we want this car to be able to win," said Muhammad Akbar Wiguna, students of Mechanical Engineering of the State University of Jakarta.
Akbar along with eight other team members said, Pitung on the first test successfully exceeded 495 kilometers distance with 1 liter of gasoline. According to Akbar, the result is not maximum yet since they have achieved their highest record two years ago in Surabaya. "We won the first place because we reached 646 kilometers per liter," he recalled.
Teams of Batavia gasoline team, said Akbar, targeted Pitung to reach more than 800 kilometers per liter at the end of the race. "We've got four more chances to test this car," he said.
To assemble Pitung, Akbar said, it takes one year. Dominated by shades of green and black colors, the cost of assembly reached 50 million rupiah. Akbar admitted that one of the challenges in the manufacturing of energy-efficient cars is the manufacturing component. Even so, 80 percent of the components of Pitung were made in Indonesia. "As high as 80 percent of the components are local components, we are working at the local garage on campus," he explained.
Ridwan Nugroho, electrical inspectors of KMHE, said that on the second day there were two cars that did not qualify to follow the race. Both of the cars were from the urban category and prototype car. "Both teams were asked to fix their cars again until they could pass the test," he said.
This year, UGM hosts the contest which lasted until Friday night (4/11). This competition requires every car to follow the 10 stages of car inspections in order to enter the contest. The winner is determined by the ability of the car to spend the least energy but to reach the farthest distance. (UGM/adelily)