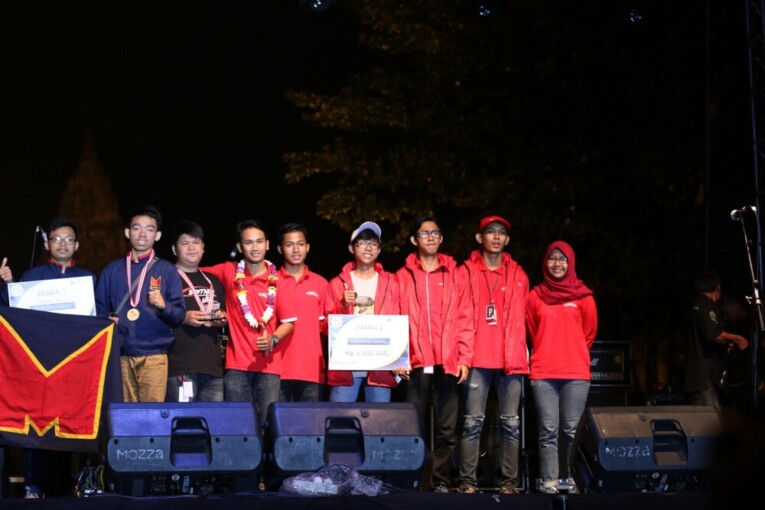 The Energy Efficient Car Contest (KMHE) 2016 was closed on Friday (4/11) at Prambanan Temple compound.
KMHE 2016 was joined by dozens of universities in Indonesia that competed in various categories: Urban Gasoline, Urban Ethanol, Urban Electricity, Urban Diesel, Prototype Gasoline, Prototipe Ethanol, Prototype Electricity, and Prototype Diesel.
After tight competitions, champions were selected in each category. Urban Gasoline was won by Sadewa Hore team from Universitas Indonesia; Urban Diesel by ITS Team 2 from Institut Teknologi Sepuluh Nopember; Urban Ethanol by Cula Satu Banten Team from Universitas Sultan Ageng Tirtayasa Banten, while Urban Electricity by Bumi Siliwangi 4 team from Universitas Pendidikan Indonesia.
In the Prototype Gasoline the first winner was Nakoela Hore from Universitas Indonesia. In the Prototype Diesel it was Apatte-62 Brawijaya-1 team from Universitas Brawijaya. Prototype Ethanol category had Rakata team from Institut Teknologi Bandung as the winner while Prototype Electricity: Batavia Elektra Team from Universitas Negeri Jakarta. UGM as host won the second place in the Prototype Diesel category.
Chairman of KMHE 2016, Dr. Adhika Widyaparaga, appreciated all participants for their participation. Similar appreciation was shared by UGM Vice-Rector for Academic and Student Affairs, Prof. dr. Iwan Dwiprahasto, M.Med.Sc., Ph.D., during the closing ceremony that thanked everyone who had supported the event successfully.
"All present here is the winners because you all have tried to advance the state through innovative works that hopefully can be useful to the state," said Prof. Iwan.
Director for Student Affairs at Higher Learning Ministry, Dr. Didin Wahidin, also expressed his pride for all the teams that joined the event. "Competitions like this are not about winning or losing, but it is one media for all to learn," said Dr. Didin.