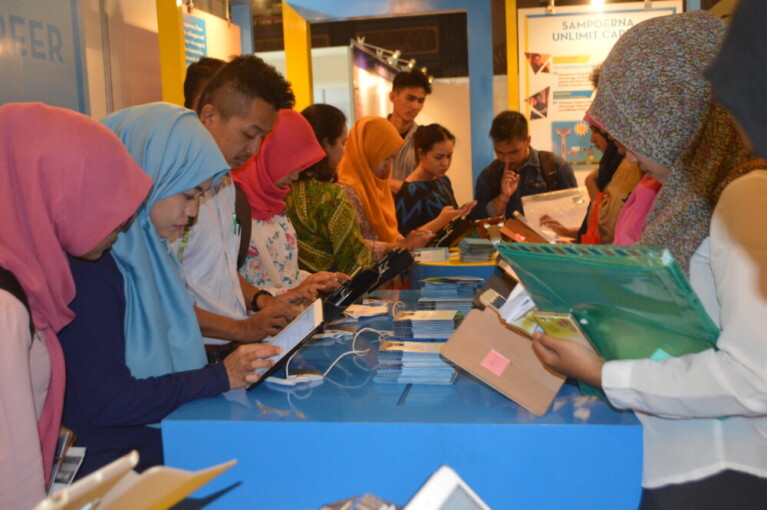 A total of 54 companies offering hundreds of jobs in various positions at the Vocational School Job Fair (SV) Universitas Gadjah Mada (UGM). The job fair was held for two days from 8-9 November 2016 at Graha Sabha Pramana (GSP) UGM.
Several companies that attended, among others, PT. HM. Sampoerna, BRI Life, CIMB Niaga, Asian Agri, PT. Sinar Sosro, and Astra Otoparts. Next, Oto Group, Kalbe Farma, WWF Indonesia, AXA Mandiri, Bank Bukopin and many more.
Vice Dean for Research, Community Service and Cooperation of Vocational School, Ma'un Budiyanto, S.T., M.T., said conducting a job fair is an effort to facilitate the SV graduates and job seekers to get suitable jobs. In addition, this job market can accelerate graduates in obtaining employment.
"Through this event, we hope the company can also get high quality employees," he said, Tuesday (8/11) when delivering a speech at the opening of the SV Job Fair 2016.
Maun said that this is the seventh year of job fair held by SV UGM through the Vocational Development Center. Each year, VDC held two job fairs for SMA/SMK, D3, D4, S1, and S2 graduates.
"We are targeting 15.000 job seekers to join this job market," he said.
Meanwhile, Vice Rector for Cooperation and Alumni UGM, Dr. Paripurna P. Sugarda, SH, L.L.M., hopes that this job fair can connect job seekers and employers. Thus, it would encourage the growth of national economy in the future.
"With a good matchmaking, the efficiency can be achieved, short waiting period of work so as to encourage the economic growth of the nation," he said.