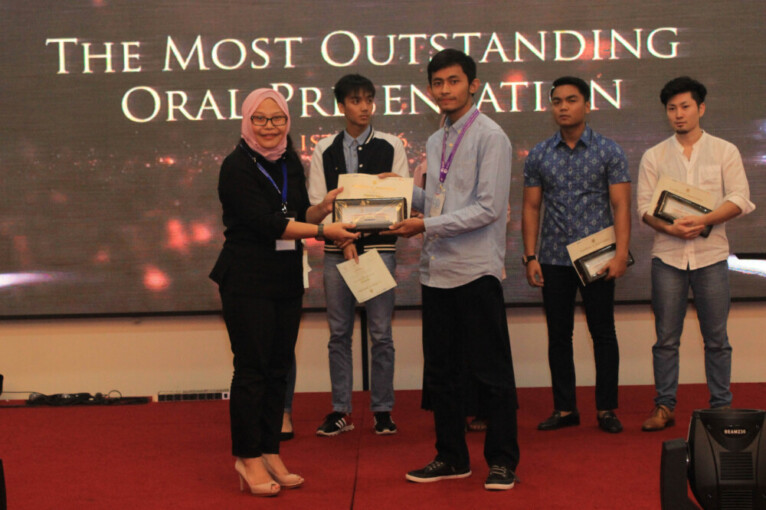 Vocational School Student (SV) Universitas Gadjah Mada (UGM) was awarded the Most Outstanding Oral Presentation in The 6th International Symposium on Technology for Sustainability 2016. Ramadhan Chairan Maulana, the awardee, is a student of Electronics and Instrumentation Engineering Department UGM.
ISTS is an international symposium organized by SV UGM in cooperation with the National Institute of Technology (NIT) Japan. The event was held from October 5 to 12, 2016 in Yogyakarta and was attended by 200 students from various universities in the world, including Japan, Indonesia, the Philippines, Finland, Malaysia, Singapore, and Thailand.
Not only symposia, workshops, and presentations of research results, this event was also completed with competitions for students. The competition is divided into two categories: papers and posters that are grouped into six areas, namely agro-industry, energy, tourism, civil construction, information technology, and industry.
Meanwhile, Ramadan won the award for best presenter of the tourism sector. At that time, he submitted a paper on the development of tools that help climbers in accessing weather information around the mountain. The tool was named Arduino based Safety Information Guidance for Climbers or Duo Serigala. It can display information about the weather in the mountains, including the temperature, humidity, and air pressure.
"This tool can display the level of safety and health effects of related information," said Ramadan on Monday (14/11) at UGM.
Duo Serigala was a product of the Student Activity Program (PKM) UGM 2016. This group was developed by Ramadan along with Barru Kurniawan, Elok Nadia Alifah, Oki Surya Pratama, and Rizka Apriliantini students of SV UGM.
Ramadan described the development of Duo Serigala was intended to help the climbers by providing safety information guide for the climbers. Although there has been a guidance tool for some mountains in Indonesia, but it only focused on monitoring the volcanic activity.
In addition to providing information about weather conditions in the mountains, this tool also features directional navigation or a starting point to the top of the mountain. In fact, there are additional features such as S.O.S button to ask for help when in need of urgent assistance. This feature works by using radio frequencies for data communication.
Ramadan hopes this tool could eventually help the climbers to monitor the situation around. Therefore, it can minimize the occurrence of accidents while climbing.