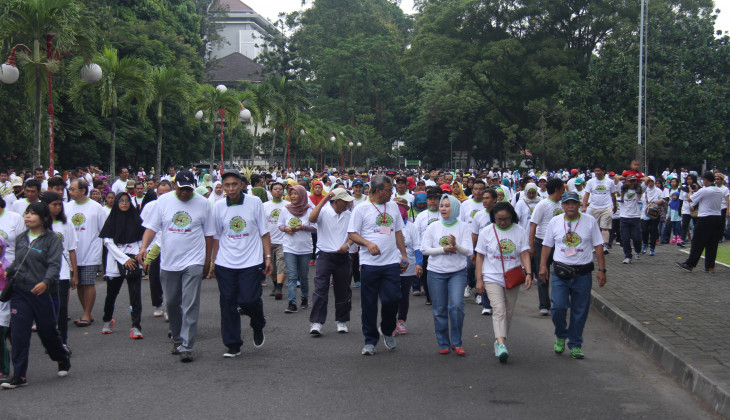 Hundreds of UGM employees and their families participated in relaxing stroll, held as a part of the 11th anniversary of the Officer Corps, Universitas Gadjah Mada (KORPAGAMA) as well as the 67th Anniversary of UGM with the theme "From UGM for Healthy Indonesia" on Sunday morning (13 / 11). This year, the relaxing stroll by KORPAGAMA has been organized for the fifth time.
"I thank you all for the participation in the activities that we have done for 5 years in a row. Thank you for the trust given to us for this event," said Dr. Saiful Rochdyanto.
Since 6 a.m., the participants began to arrive to the yard of main building of UGM. This activity started with an exercise in front of the Hall of UGM before continuing with the walk on the street of Kaliurang from KORPAGAMA office and back again to the hall. UGM Rector, Prof. Ir. Dwikorita Karnawati, M.Sc., Ph.D., officially opened the program.
Although the track taken is not too far and not much different from previous years, this event has made the participants sweat. Not only that, this activity was intended for employees and families of UGM to know and mingle with each other.
After the exercise, as in previous years, door prizes and entertainment were given. Main prizes of the event were a bike, a refrigerator and a washing machine.
"I express many thanks to the faculty and the unit which has sent door prizes. By year, the number of prize is also increasing," said Saiful.
UGM Vice Rector for Human Resources and Assets, Prof. Dr. Budi Santoso Wignyosukarto., Dip. H.E., Dean of the Faculty of Animal Husbandry, Prof. Dr. Ir. Ali Agus., DAA., DEA, Dean of the Faculty of Engineering, Prof. Ir. Panut Mulyono, M. Eng., D. Eng., and chairman of the 67th Anniversary, Prof. dr. Budi Mulyono, Sp.PK (K)., MM, were also present.