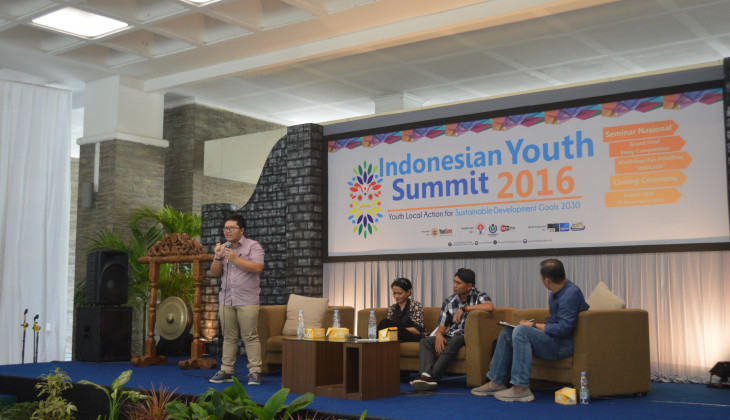 The youth has the important role to play for state development. Their contribution is much required to succeed the Sustainable Development Goals (SDGs). This emerged in the discussion titled Indonesian Youth Summit 2016 at Faculty of Social and Political Sciences UGM on Thursday, 10 November 2016.
The discussion presented three speakers: Biyanto Rebin, chairman of Wikimedia Foundation Indonesia, Dian Arymami, S.IP., M.A., Communications lecturer from UGM, and Sugeng Handoko, initiator and activist for tourism village of Nglanggeran in Gunungkidul regency.
Various ways can be done by the young generation to support development. One of which has been done by Sugeng Handoko that developed the local potential of Nglanggeran ancient volcano in Gunungkidul. He had involved all members of the local people to sustain their environment.
Sugeng said it was not easy to develop the tourism of the volcano, but eventually his persistence paid off. The local people's awareness of the potential had grown and the tourism finally flourished. It can also reduce urbanisation as many of the young people have decided to stay to manage the tourism area there.
"So, people not only become players, but also earn benefits from the tourism potential," he said.
Biyanto Rebin highlighted the deteriorating use of Indonesian language. Many of the young people have not spoken or written the right language.
So, Biyanto encouraged the young generation to speak Indonesian well. They are expected to engage in sustaining the national languange amidst the globalisation. One of which is through helping Wikimedia Indonesia do its mission to encourage growth, development and spread of good Indonesian and other languages spoken in Indonesia.
"By giving your thoughts and ideas to Wikimedia, you can help the state progress," he said.