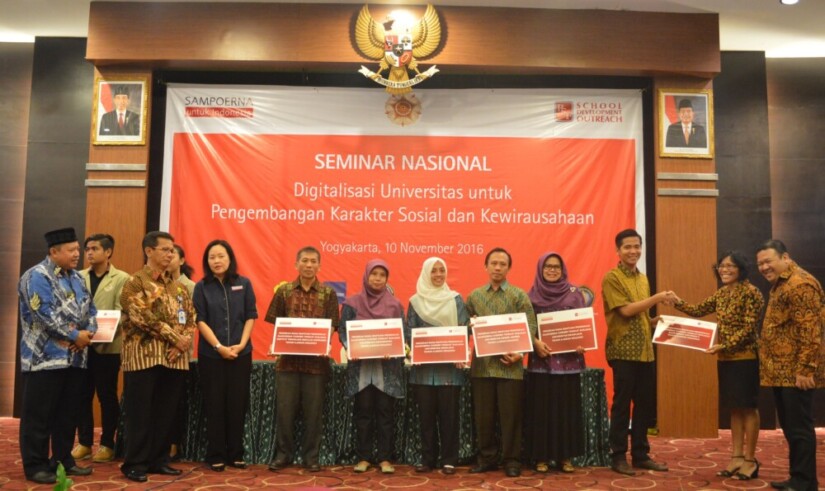 The world has come upon the fourth wave of economic era, Creative Economy Era. Agricultural economy has shifted to industrialisation, followed by information era that produced new findings in information technology toward digital economy.
"The technology creates dependence among humans, making them more active, creative, and productive," said Budi Wibowo, Head of Library and Archives Office of Yogyakarta in the national seminar titled University Digitalisation for Development of Social and Entrepreneurial Characters, at UC UGM on Thursday (10/11).
Reading out the remarks of Governor of Yogyakarta Special Region, Budi Wibowo said during the creative economy era, population growth is not seen as a problem if people can independently improve their lives through their creativity. "Creative industry focuses on creations, to create or modify a thing to make it of economic value," he said.
The Seminar was organised by Universitas Gadjah Mada in cooperation with PT HM Sampoerna Tbk and Putera Sampoerna Foundation School Development Outreach (PSF SDO) to inspire the students for entrepreneurship, particularly in digital area.
UGM Director for Student Affairs, Dr. Senawi, M.P., appreciated Putera Sampoerna Foundation that had involved in the effort to make the country smart. Apart from giving scholarships, PSF SDO also engages in training young entrepreneurs by running national seminars. This is in line with the UGM policy that encourages its graduates not to seek for work, but open work opportunities.
"In developed countries, the figure of those working in entrepreneurship reaches 12 percent. In Indonesia it is still below 12 percent. So, this area is very open to us," he said.
Head of Stake Regional Relations and CSR of PT HM Sampoerna, Henny Susanto,explained the seminar and scholarship were evidence of commitment of investing in education and development for the young generation of Indonesia. In 2015, education investment that has been disbursed by PT HM Sampoerna Tbk covered almost 80 thousands recipients.
"We believe the activities conducted by PT HM Sampoerna Tbk, along with Sampoerna Foundation, will produce programme of excellence for the quality education of Indonesia," she said.
Taruli Aritonang, Regional Relations and CSR Manager of PT JM Sampoerna Tbk, said amidst the globalisation, competition became stronger. Sampoerna will sustainably try to support the capacity enhancement of the young people through programmes, such as seminars, workshops, etc.
"This is expected to enrich the insight of the young generation, especially students, to mobilise them to be able to present ideas that benefit Indonesia," he said.