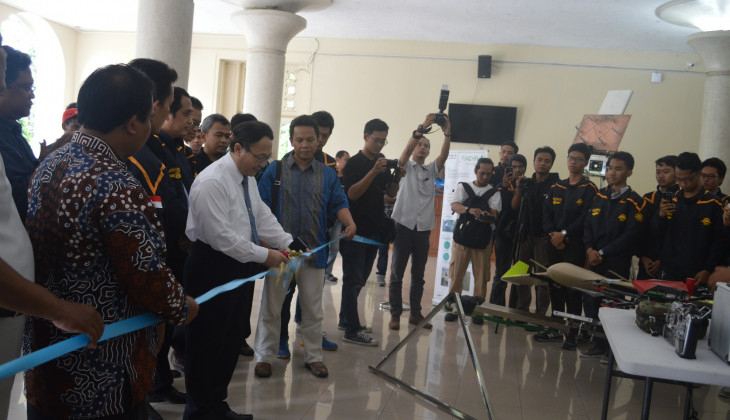 Four robots from UGM developed by Gamaforce team are ready to compete in the Indonesian Flying Robotic Contest (KRTI) 2016. These are Fiachra Aeromapper, Rasayana Racing Plane, Gadjah Mada Fighting Capter and Aksabiantara.

The contest will run from 23 - 26 November 2016 at Universitas Lampung in Kota Baru Jati Agung, Lampung province. As many as 4 categories will be competed, namely racing plane, fixed wing, vertical take off landing and technology development.

Supervising lecturer, Gesang Nugroho, ST., MT., Ph.D, said the Gamaforce team had done research to achieve the best result.
"The Gamaforce force team will join all categories. Hopefully, our hard work would pay off," he said at the Balairung UGM on Thursday (17/11) during the release of the team to the competition.
At the same occassion, UGM also released the Arjuna team that will compete in the Indonesian Electric Car Contest (KMLI) 2016 at Politeknik Negeri Bandung from 18-19 November 2016.

Vice-Rector for Academic and Student Affairs, Prof. dr. Iwan Dwiprahasto, M.Med.Sc., Ph.D, welcomed the participation of the students, supported by lecturers, in these competitions. He said this brought pride to UGM as the university has students and lecturers that can produce products that are ready to compete in the event.
Meanwhile, M. Aldika Biyanto, Gamaforce chairman, said the UGM dispatched 35 students from Engineering as well as Mathematics and Natural Sciences Faculties, and Vocational School. He added up to 219 students joining 73 teams from 29 universities would participate in the contest.
In last competition, the UGM Gamaforce team was the grand champion. They are optimistic that this year they will have a similar result.
Aldika admitted that all participants were challenged to design, make, and fly an Unmanned Aerial Vehicle (UAV). "In the KRTI 2016, we would join all categories of the contest. We hope we could have the maximum result so as to be the grand champion as before," he said.