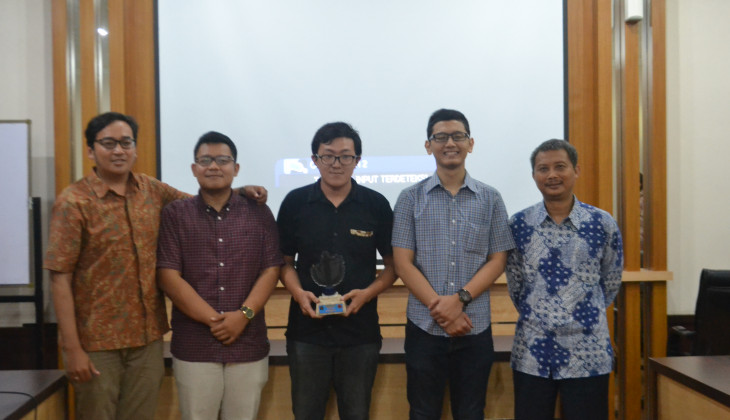 The UGM delegation has brought home the first prize trophy from the National Criminal Issue Debating Competition to win the Munir Said Thalib trophies during the Brawijaya Law Fair 2016 in East Java. The students are Dede Tri Nugraha Amir, Calvin Lucky, and Muhammad Gravi Danutirto, with guidance from Muhammad Fatahillah Akbar, S.H., LL.M.
"The UGM debating team has again proved itself as excellent in national debating competitions," said Dean of Faculty of Law UGM, Prof. Dr. Sigit Riyanto, S.H., LL.M, in a press conference on Monday (21/11) at Faculty of Law.
They competed with 23 delegations from Indonesian universities in a four-phase competitions lasting from 17-18 November.
"In the semifinal we faced a tough opponent, reaching a draw with UNDIP, but eventuallty we went through to the final as we had won the scores," said Dede.
Dede said this competition was a hard one, but their hard work was rewarded after they won over UNS team for their reconciliation motion as solution mechanism for human right abuse in 1965 in the cons position.
"This competition was exhausting because from the selection phase up to the semifinal all was done on the same day and the final on the next day. But we were proud to eventually bring home the award," he said.
UGM delegation also became the finalist in Legal Opinion category of the Brawijaya Law Fair 2016. On child crime competition category, UGM represented by Sigit Wibowo was declared the winner after beating teams from Universitas Indonesia, Universitas Hassanudin, Universitas Diponegoro, and others.