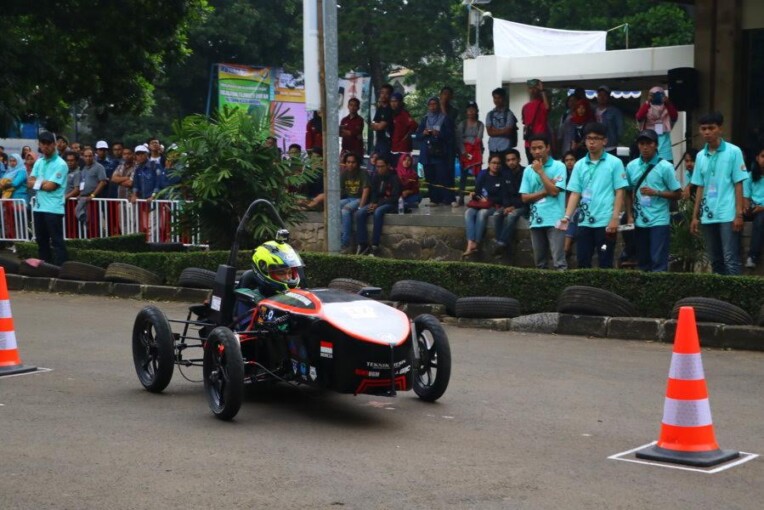 Universitas Gadjah Mada's (UGM) electric car, Arjuna, has successfully earned three awards in the Indonesian Electric Car Competition (KMLI) 2016 at Politeknik Negeri Bandung from 18-20 November. They won the The Best Technology award, runner-up in the slalom category and third winner 3 in acceleration category.
"Obviously, we were very proud with the awards," said Lukman, chairman of Arjuna team, on Tuesday (22/11) on campus.
Lukman said the Arjuna car this time was the fourth generation. It competed in all categories with other 22 electric cars from other universities.
"We competed in 6 categories, rate of climb, acceleration, deceleration, slalom, speed, and efficiency," he said.
There are also non-category competitions that include presentation and poster, team, construction, and technology with Arjuna team winning the best technology.
The success of the Arjuna UGM team in the KMLI 2016 was thanks to the creativity and innovation that are continously made by the students with the support from lecturers. Their supervisor, Muslim Mahardika, S.T., M.Eng., Ph.D., mentioned that the achievement this time repeated the previous competition.
"We always try to make innovations and do our best. Hopefully, in the future we can make more achievements to make UGM proud," he said.
Meanwhile, Head of Student Creativity sub-directorate, Ahmad Agus Setiawan, M.Sc., Ph.D., appreciated the outstanding work of the Arjuna team, with the hope that in the future they would make more achievements and continue to making innovations.
"Hopefully, this achievement can motivate the students to do better in the next years," he said.