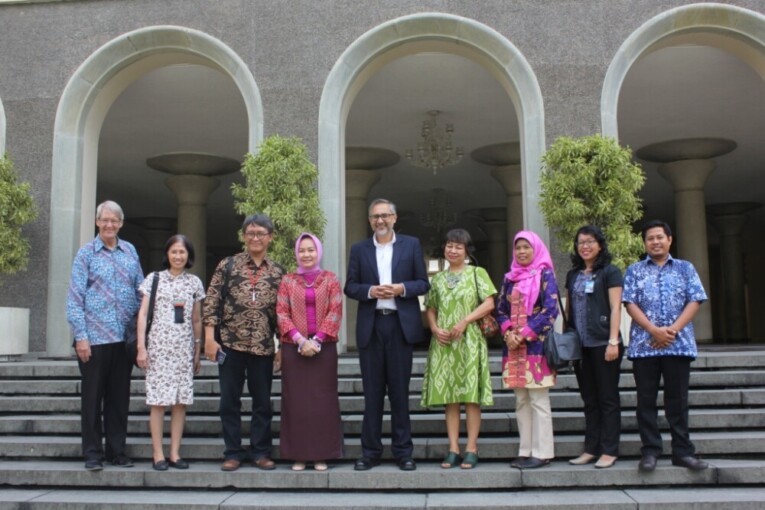 British Ambassador to Indonesia, ASEAN, and Timor Leste, Moazzam Malik, visited Yogyakarta and gave a general lecture at Faculty of Social and Political Sciences UGM on Wednesday (23/11). Speaking on tolerance and pluralism, he expressed his amazement at tolerance in Indonesia. He further encouraged Indonesia to share this experience to the world.
"Indonesia has a role to play on tolerance. Of all the countries where I have worked, Indonesia is the most successful that protects tolerance and promotes moderation," he said. Further he told the audience who were mostly students of his experience when he first came to Yogyakarta and saw a woman in Muslim headscarves was riding a motorcycle on the street or when he attended a meeting at the State Palace where a female ulema was leading the event. He said both events could not be found anywhere else in the world, in some countries these would even stir controversies.
The Ambassador saw this as a unique nature in Indonesian interfaith life. On a bigger scale this could be the solution to intolerance problems in the world. He further called on the Indonesian people to see the bright side and potential that exist in society.
Specifically, he mentioned two characters of Indonesia that have formed tolerance tradition in Indonesia. Indonesia since its establishment has been diverse unlike other countries; and second, the existence of state ideology of Pancasila as well as Bhinneka Tunggal Ika as the state motto.
"Many countries do not have the same idea. We (the UK) even have no national motto. We started talking about national values about three years ago and it already caused a debate," he said.
Ambassador Malik said that this was why Indonesia has to be more active in pluralism discussion at world forum to find solutions for intolerance issues.
Further in his meeting with Rector of UGM, he stated the intention to send British students to study in Yogyakarta, including to join the UGM student community service programme (KKN) for international students. The Rector, Prof. Ir. Dwikorita Karnawati, M.Sc., Ph.D., welcomed this plan.
"Thirty years ago when people had not talked about education for sustainable development (ESD), we had started the KKN programme. With this cooperation, we would facilitate British students that want to participate in the KKN, and the theme of KKN can be tailored to pluralism projects like what has been explained in the lecture," she said.
Both parties also discussed cooperation plans in teaching industry that will be built by UGM, academic cooperation, and other possible areas with British Embassy and British universities.