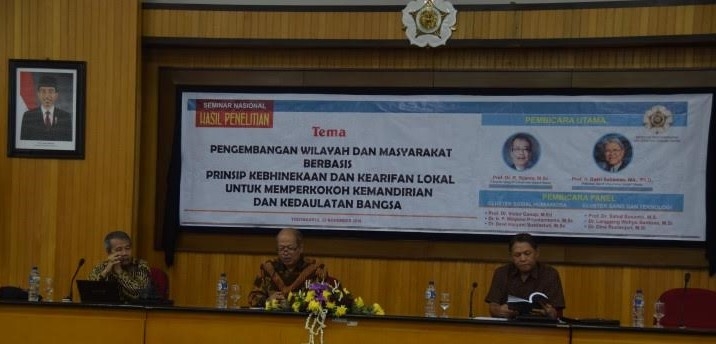 Indonesia is a country with high diversity, from physical ones, demography, economy, to culture. Geography professor from UGM, Prof. R.Rijanta, said Indonesian diversity can be the strength that unites the country. Tolerance, is the tool to unite such diversity.
"Tolerance is part of the strength and sustainability of Indonesia," he said on Wednesday (23/11) at UGM Graduate School.
In the national seminar titled Area and Community Development Based on Diversity and Local Wisdom in Strengthening Independence and Sovereignty, Rijanta mentioned that in Indonesia socio-cultural variations are interwovened and form crisscrossing patterns. Such condition makes no single group unable to be exclusively differentiated from other groups under all variables.
"For a country as huge and diverse as Indonesia, national integration has to be our special attention, because national integration is prerequisite to national development," he described.
In his opinion, instilling the love for the nation has to be done since early on to enhance national integration. Failure in understanding the state identity has the potential to damage the national integration.
"Failures to inherit historical collective experiences among generations have the potential to weaken our national integration," he said.
Similarly, Engineering professor from UGM, Prof. Bakti Setiawan. Bakti, the diversity of Indonesia became the state's power. Consolidation of the nation, diversity, pluralism, and unity are the strength to realise the transformation of democracy, decentralisation, as well as empowered community.
"Eventually, Indonesia would triumph in culture, pluralism, tolerance, inclusivity, and resilience if all elements of society can unite in their diversity," he said.