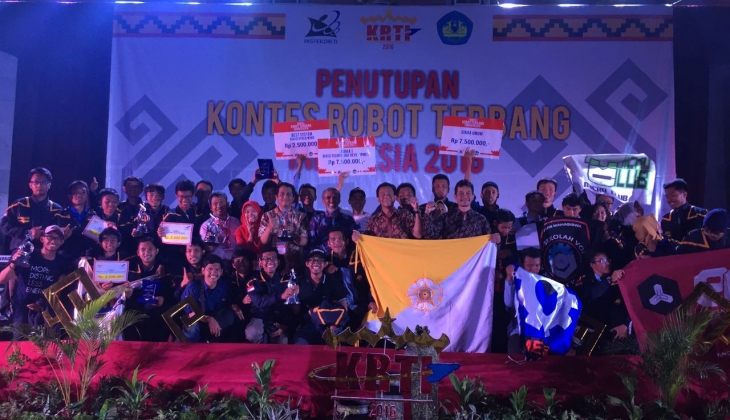 The Gamaforce team from UGM has won three of four award categories in the Indonesian Flying Robot Contest (KRTI) 2016 at Lampung University, Lampung, from 23-26 November 2016. The Gamaforce team won the first award for fixed wing category, making the Fiachra Aeromapper UGM robot the best system. The Rasyana is the second winner in the racing plane category while the Aksa Biantara robot is the first winner in technology development category. The Gamaforce also came first in the photo contest during the KRTI that was joined by 73 teams from 29 universities in Indonesia.
Gamaforce Chairman, M. Aldika Biyanto, was proud of these achievements that had been made after a rigorous preparation. "We were proud that we were able to maintain the overall winner awards by winning three categories and one special award," he said on Monday (28/11).
In the fixed wing, the Fiachra Aeromapper robot was the winner for it had succeeded in conducting mapping and monitoring mission on an area measuring 1x1 kilometer. The Rasyana robot came second with the best time results at 26.16 seconds, while the in the technology development, the Aksa Biantara robot was successful in developing UAV technology independently.
"Developing the Aksa Biantara robot, we made the flight controller, Ground Control Station and auto-tracking antenna all on our own," he said.
Aldika said the success was credited to the 52 team members from Engineering, Maths and Natural Sciences Faculties and Vocational School; also support and funding from related faculties and universities.
"We were happy to be able to retain the overall winner for two years. In the future it will be tougher and we will try harder to retain the win," he said.
Separately, Head of Student Creativity Sub-directorate, Ahmad Agus Setiawan, S.T., M.Sc., Ph.D., appreciated the Gamaforce team for their success in two years in a row. He thanked all for their commitment and hard work, support from the university and faculties, departments, and study programmes.
"We hope this success can be sustained, and in the future Gamaforce would be able to participate in technology innovations that can benefit the state," he said.