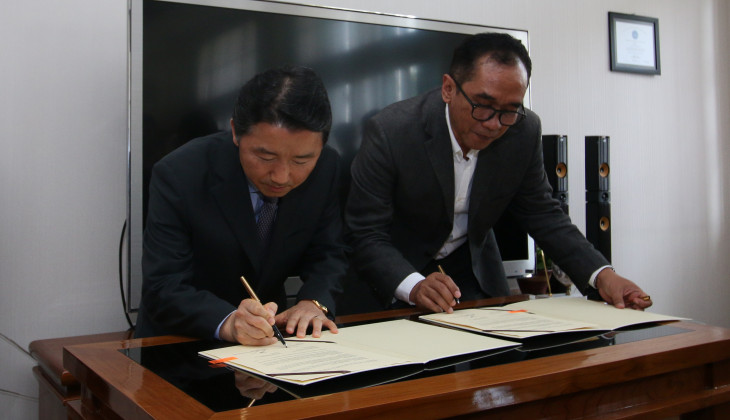 Universitas Gadjah Mada has established a cooperation in education and research with National Institute of Forest Science (NIFoS) of the Republic of Korea. A Memorandum of Understanding (MoU) was signed between the two parties on Monday (28/11) at UGM Main Office. Cooperation areas cover research, faculty exchange, seminars, information exchange, and forestry. The cooperation will particularly concentrate on maintenance of forest ecosystem, disaster, biotechnology, silviculture, conservation, green tourism, forestry products and others.
NIFoS is a national research institution in Korea under the Forestry Department. It aims at building and diseminating forestry sciences for the Korean people and environment.
"For us, it is important to deal with climate change. As what had been stated by President Joko Widodo, I hope we can both resolve this issue," said President of NIFoS, Sung Hyun Nam, Ph.D., further appreciating the support from UGM. He expressed the intention to follow up the cooperation with UGM that will benefit not only both parties, but also the general public.
"I would like to thank all that are involved in this cooperation. Hopefully, the MoU can be implemented well and benefit the society," he said.
Similarly, UGM Vice-Rector for Cooperation and Alumni, Dr. Paripurna, S.H., M.Hum., LL.M., expected the collaboration would impact on science development and the bilateral relations between Indonesia and Korea.
"In terms of culture, Yogyakarta has actually similarities with Korea. I hope we can also form good friendship through mutually beneficial cooperations," he said.