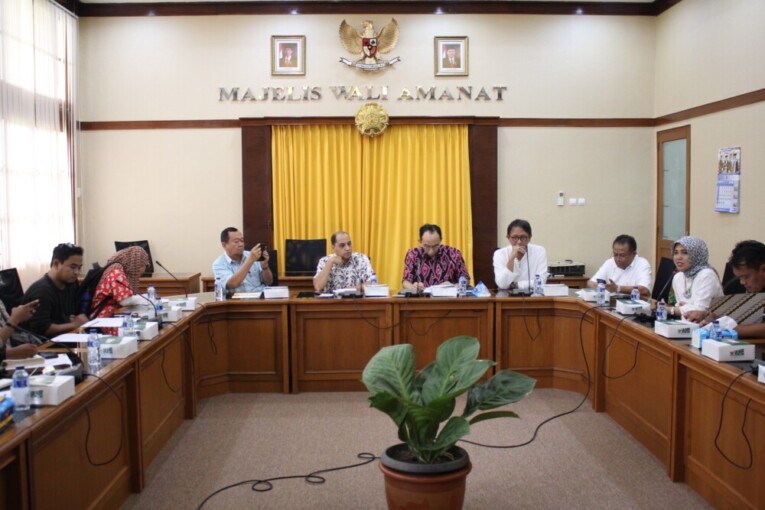 In many areas, the spirit to live together amidst cultural, ethnicity, language and faith diversities in Indonesia is very strong. The country has resolved big scale conflicts such as those emerging in the Moluccas and Aceh after 1998. In spite of this fact, some contentious issues still linger, such as the recent nationality issue that has come up.
UGM as a national university, university of struggle, and university of people, is trying to sustain the unity of the state. Approaching the 67th anniversary of the university on 19 December, UGM continues to sustain the struggle of the founding fathers towards developing civilisation.
"So, what we build is not the hall or organisation, but a better civilisation," said Rector of UGM, Prof. Ir. Dwikorita Karnawati, M.Sc., Ph.D, at the Board of Trustee's room on Wednesday (30/11).
Dwikorita Karnawati said UGM turning 67 wanted to always develop the Tridharma Perguruan Tinggi principle through educational programme, research, and community service. To build and sustain unity, UGM always indonesianise its students through new students induction programme.
Niti Laku and Bhinneka Tunggal Ika
While on the celebration of the 67th anniversary, UGM will host the Niti Laku event on 18 December 2016, which marks the process of moving from course area in Kraton Yogyakarta to the current one in Bulaksumur.

Dr. Zainal Abidin Bagir, Head of Centre for Cultural and Cross-Religious Studies (CRCS), said the current national realities have the potential to threaten the Bhinneka Tunggal Ika national slogan. Thus, the government and society need to really nurture the spirit of unity in diversity or Bhinneka Tunggal Ika.
For Zainal Abidin Bagir, nurturing and enlivening the spirit of Bhinneka Tunggal Ika means daring to resolve contentious issues through law enactment. At the same time, it needs to be realised that Bhinneka Tunggal Ika is not only a celebration of diversities in unity, but requiring socio-economic justice for the society, especially the marginalised people.
"The government Nawa Cita commitment needs to be implemented comprehensively, not just to follow the priorities order that is pragmatic, which often marginalises main issues related to diversity reward and pro-marginalised people," he said.
UGM sociologist, Dr. M. Najib, S.Sos., M.A., said the country's diversity is a truth that has always to be maintained. Amidst the recent nationality issues that are stirred by unhealthy discourse and assumptions, it is just right for the university to come out as an inspirational source for enlightment.
He added the current situation was a serious challenge, because many people from around the world wish to learn from Indonesia. Indonesia is seen as succeeding in democratisation processes, better than Egypt, Thailand, etc. Indonesia has become the model in the world for dealing with democratic multiculturalism.
"Indonesia has become the reference of the world. Amidst those processes, I think we're facing serious challenges on the process of Bhinneka Tunggal Ika, but with this anniversary celebration events, UGM can be part of the state inspiration," he said.