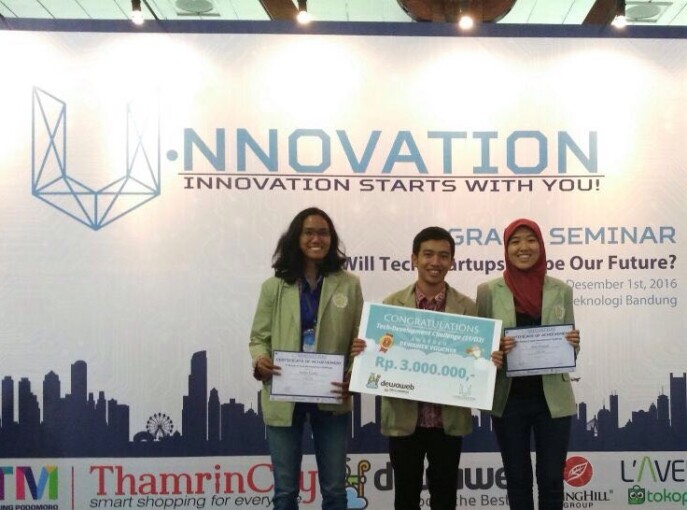 A team from Universitas Gadjah Mada (UGM) has become the winner of the Tech-Development Challenge U-Nnovation for student category that was organised at ITB in Bandung on 1 December 2016.
The UGM team with members from Faculty of Mathematics and Natural Sciences, Muhammad Afrizal, Saskia Kamila, and Dina Haniyah, submitted an application prototype named as "Little Tree".
"This application is a platform that links investors, farmers, and land owners who would together develop the Indonesian people's forests," said Afrizal on Tuesday (6/12) at UGM.
The application enables investors to choose the farmers, locations, and type of trees to grow. The investors also have the opportunity to know real time the development of the trees.
"The Little Tree application is developed based on Internet of Thing where investors know and monitor real time their business," he said.
Furthermore, with the apps, the investors are able to know the level of fertility of the land as well as the absorption of CO2 in their farms.
"So, not only the investors empower the farmers and earn profit from the tree investment, but also contribute to conserving the environment through the trees that absorp CO2," Saskia Kamila added.
Saskia mentioned the agricultural Little Tree cultivation is the cultivation of fruit trees like avocado, durian, and banana. This is done so to extend the size of people's forests.
"The investment that we offer is one that plants fruit trees so the end result would be the fruit that is harvested, not the tree, in the hope that this would increase the size of people's forests in Indonesia," she said.