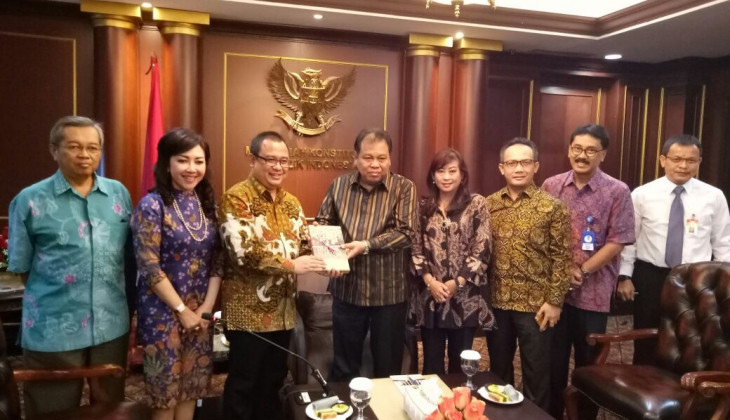 Alumni association of Universitas Gadjah Mada (Kagama) called on Chairman of Constitutional Court, Arief Hidayat, on Tuesday (13/12) to discuss ideas on nationhood issues that had been previously deliberated and put into writings by the alumni of Universitas Gadjah Mada in a book.
Secretary General of Kagama, Ari Dwipayana, said the ideas hover on nationhood issues such as food and energy sovereignty. The association has the main ideas to build and strengthen diversity.
Ari said the numerous regulations that contradict the State Constitution (UUD 1945) had to be amended. He further described the ideas of the association on the need to reform law enactment and law cultural strengthening so as "to encourage justice to prevail." He lamented, saying that "currently the focus is more on producing legal products, i.e. laws, not law enactment."
Arief Hidayat shared this view, saying that there needs to be an affirmation of the term "Indonesia is a country of law." In his opinion, many have misinterpreted such notion.
"Indonesia is a country of law that is evaluated not just by the sheer number of laws that it has produced, but also the law enactment that prevails," said Arief.
Arief further reinstated that the Constitutional Court were trying to bring back the dignity of the Court, one of those is by working through issuing verdicts rather than making public statements that only cause political noises.