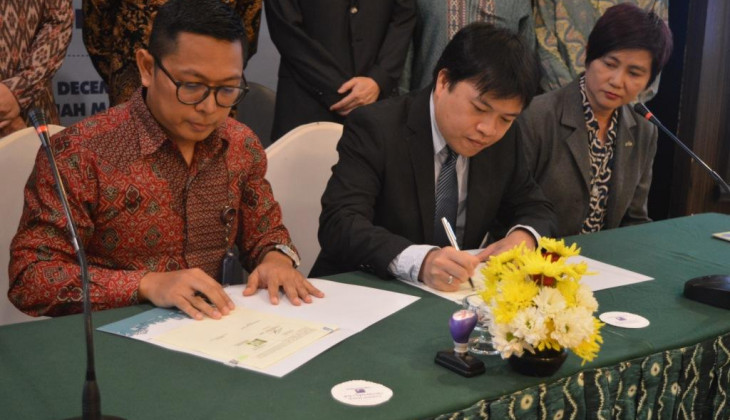 One of UGM holding companies, PT Gamatechno Indonesia, has established a cooperation with Tai Twun Enterprise Co., Ltd. from Taiwan to develop services based on system and information technology to set up a smart city.
Gamatechno focuses on development of product and information technology solution to higher learning, government agencies, transport and logistics services providers, and lifestyle industry. Through the cooperation with Tai Twun, Gamatechno can enhance its role in transportation technology.
"Tai Twun has the technology that can be implemented in Indonesia. So, this cooperation can benefit both parties," said Director of Gamatechno, Muhammad Aditya A. N., prior to the signing of Memorandum of Agreement between PT Gamatechno Indonesia and Tai Twun Enterprise Co., Ltd., on Thursday (22/12) at University Club UGM.
On the segment of transportation and logistics, Gamatechno has developed products for companies, namely gtFleets, gtSmartTicket System and mTransport application. Later on, Tai Twun and Gamatechno will develop applications to be used massively in trasportation technology.
"We already have numerous applications for smart city. But we also need the hardware for them to work and we cannot do it ourselves. So, we need to involve other people," said Aditya.
Representatives from Tai Twun, Thomas Soo, said the cooperation was to combine the expertise of both parties to be able to develop useful products.
"UGM has made a new jump with this cooperation. I believe this is the start of the good relations between us," he said.
UGM Vice-Rector for Cooperation and Alumni, Dr. Paripurna Soegarda, S.H., M.Hum., LL.M., shared the view, saying that this was a prospective matter that will hopefully bring productive results.