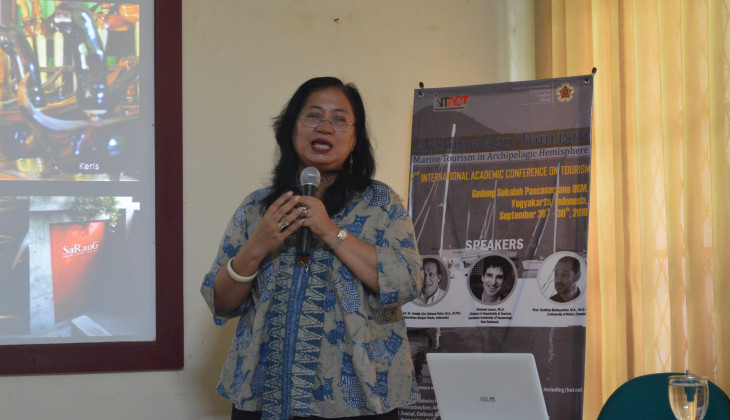 The Province of Yogyakarta Special Region as one of strategic tourism destinations has a wealth of tourism potential that have yet to be developed in the future. In spite of this fact, the assets in this province are vulnerable and in need of maintenance. The government, therefore, needs to establish clear regulations to preserve the areas of excellence of tourism.
"We need guidelines for destination intervention, design intervention, who would come there, etc. We have to make sure how we would decide on how Jogja's tourism would be like," said Dr. Ir. Laretna T. Adishakti, M.Arch., on Thursday (19/1) at UGM Centre for Tourism Studies.
In a discussion titled Enhancing Tourism Heritage of Yogyakarta, the Architecture and Planning lecturer of UGM, who is often called by her nickname, Sita, highlighted the importance of attention to the management of tourism of excellence in the province that still respects sustainability. He added the province has assets of excellence, starting from Kulon Progo to Gunung Kidul regencies, but not all has been managed appropriately.
During the discussion, Sita mentioned the nine tourisms of excellence in Yogyakarta, which are ecological masterpiece, ancient masterpiece value, philosophical value, cultural diversity value, Indonesian value, education value, art and culture of traditional and contemporary masterpiece value, value of people, and value of agricultural culture system. These all need to be managed and sustained together.
She described that understanding of heritage conservation has actually gone far, not only in heritage conservation but also management of change, a change that is made selectively.
Looking at the regional potential and creativity of the local people, Sita feels optimistic that Yogyakarta can flourish like any other cities in the world that have developed their heritage well. She asked numerous groups, government, residents, and private party to be able to manage tourism in Yogyakarta so they can can make the people prosper but without casting the local wisdom aside.
"Jogja's tourism has to be special. The people of Jogja are innovators, creators, but also conservators, not followers. If we can teach and learn from each other, this can be a movement coming from Jogja, so it becomes the unique destination of Jogja, not of others," said Sita.