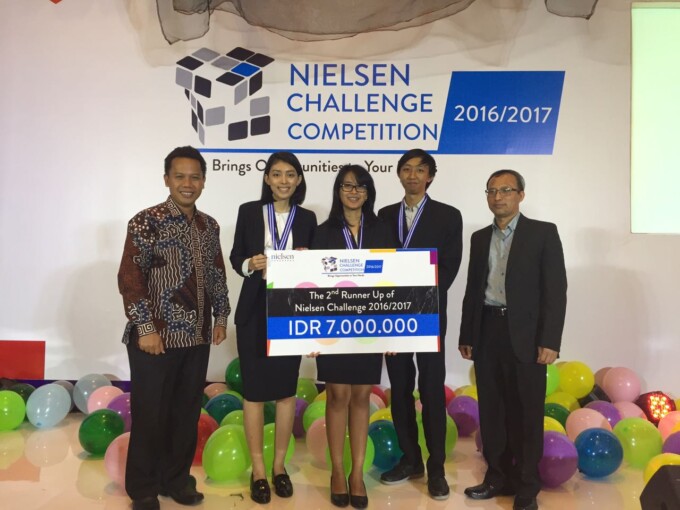 The Mario team of Universitas Gadjah Mada (UGM) has come out in third place in the Nielsen Challenge Competition 2017, a national marketing competition, held in Jakarta on 19 January.
With members Brio Elprananta, Untari Febrian Ramadhani, and Dewi Kharisma who are all students of the Management Department of the Faculty of Economics and Business, UGM, the team had to compete with 223 teams from 30 universities in Indonesia.
Mario team chairman, Brio Elpananta, said the team had to undergo a series of selection tests to win the competition. During the pre-elimination, they were given a business case of a tea producing company. They were asked to identify the opportunities and threats in the market and their consumer target, and to devise appropriate marketing strategies,
"The best 10 proposals for marketing research were picked to go into the semifinal," he said on Friday (20/1).
Next, the 10 best teams were asked to present their proposal to the juries in a conference call. Then, the best five teams were chosen: they were three teams from UI, one from ITB, and the UGM team. These proceeded to the final and present the proposal directly to the juries in Jakarta.
"In the final round, all finalists were given real data by Nielsen to devise marketing strategies that were required by the client. We were given mentoring in implementing the research proposal on marketing," he said.
The third place made them proud. Apart from the experience and guidance from the mentors, they also receive recommendations to join Nielsen.
"Although we have not finsihed as the champions, we were delighted because we are awaited to be joining Nielsen," he said.
Brio hoped in the future UGM students would make better achievements in similar competitions and others. He hoped their achievements would inspire and motivate other students to continue aiming for similar achievements in their respective fields.
"Hopefully, the tradition of winning can be sustained by UGM students," he said.