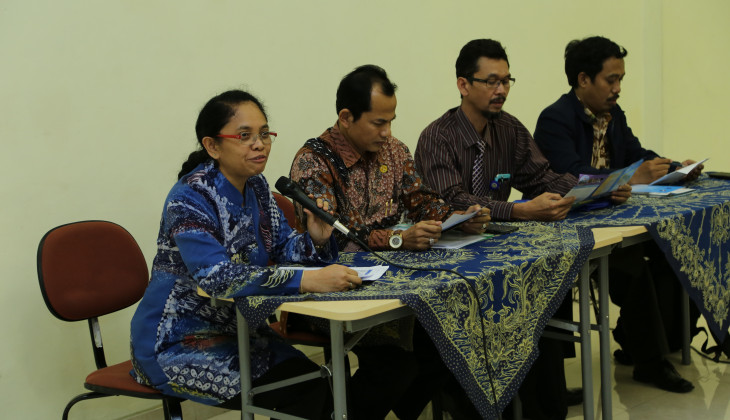 State universities have started to open selections of new students, which come in the form of SNMPTN (academic achievements), SBMPTN (joint written and skills tests), and independent selections by respective state universities.
"This year the percentage of quota for new students provided by state universities in Jogja is still the same (as last year), 30% for SNMPTN, 40% for SBMPTN, and 30% for independent selection," said Director for Education and Teaching of Universitas Gadjah Mada (UGM), Dr.agr. Ir. Sri Peni Wastutiningsih, when socialising the implementation of SNMPTN and SBMPTN to representatives from high schools, vocational schools, and Islamic schools around Yogyakarta on Wednesday (25/1) in Grha Sabha Pramana UGM. Four state universities in Yogyakarta conducting SNMPTN and SBMPTN are UGM Universitas Negeri Yogyakarta (UNY), Universitas Islam Negeri (UIN) Sunan Kalijaga, and Universitas Pembangunan Nasional (UPN) Veteran.
The SNMPTN process started on 14 January with schools starting to fill out data of their students. Registration starts from 21 February - 6 March 2017. Peni said the procedures to fill out the data of the students are the thing most asked by schools during the socialisation.
Peni explained, compared to last year, this time the schools will be unable to go to the next page if they have not completed previous page. This is done to prevent students being unable to verify if the school data have not been validated.
Furthermore, Peny hoped all schools would fill out the forms for their students even for those that have not A, B, or C accreditations so that the students have the chance to register at state universities.
"This is the right of the student, so the school needs to facilitate them. Even if they only have 5% chance, they can still be admitted," she said.
The funding of SNMPTN is borne by the government and students need not pay for anything. Participants from underpriviledged family that are accepted have the chance to get educational fee assistance through the Bidikmisi scholarship. According to Head of Academic, Student Affairs, and Information Bureau of UNY, Drs. Sukirjo, M.Pd, this would give hope for the underpriviledged students to get higher learning education. He also regretted that some schools are unwilling to submit names of their students for fear that the students cannot get funded.
"The schools should submit names of all of their students that are eligible for Bidikmisi scholarships. The students can still try the SBMPTN and independent selection, anyway," he said.
The state universities in Yogyakarta this year offer new students quota of 6,627 at UGM, 2,320 at UPN, 3,372 at UIN, and 4,656 at UNY, all allocated into the three selection mechanisms mentioned above.