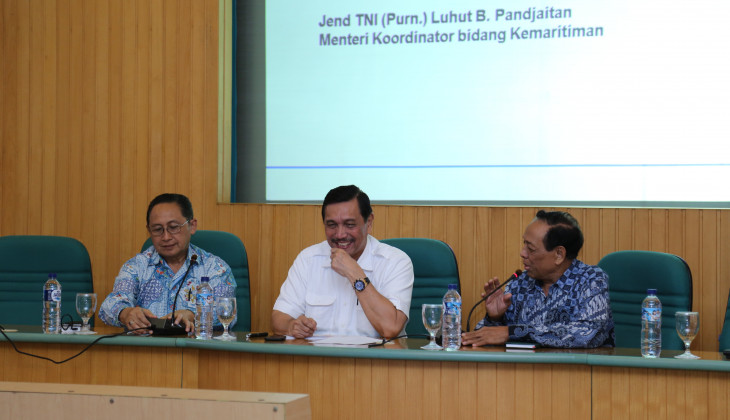 The change in the world politics has altered the political constellation and caused uncertainties globally. Despite the fact, said Coordinating Minister for Maritime Affairs, Luhut Binsar Pandjaitan, said the current economic stability has sparked optimism towards the future of Indonesia.
"Currently, changes were happening that had been unimaginable before. But we cannot see Indonesia as it was in the past, Now the economy of Indonesia is relatively better, and this is acknowledged by other nations," he said when giving a public lecture on Friday (27/1) titled Global Uncertainties and National Development Strategy for Growth and Equity. The Minister mentioned some global uncertainties challenges that remain, including the slow recovery of world economy after the 2008-2009 crisis, escalating Middle East crisis, influx of refugees into Europe, and policy of US new president Donald Trump.
"Economic, crisis, refugee, and Donald Trump have sparked the emergence of populism faction in several countries, such as Marie Le Pen in France, and Geert Wilders and Freedom Party in the Netherlands who are known for their anti-Islam sentiment," he said.
Luhut added the problems between the U.S. and China might be escalating remembering the statement made by Mr.Trump that considered to review the Chinese personnel policy in South China sea, and tariff imposition on imported goods from China.
The complexities of this situation, according to Luhut, created unstabilities and shifted world power as well as opened opportunities for Asian countries, including Indonesia to show their real strength. Luhut said amidst the unstabilities in Europe and the Americas, Indonesia has instead showed rapid economic growth with relatively stable economy.
"The achievement made by the government in 2016 has shown good results, and it is also shown by the decreasing poverty level and gini coefficient. This is in line with the government target to reach growth and equity," he said.
In 2017, the government will continue to drive programmes to minimise the gap and increase growth. The focus of development will still make a balance between physical development and human resource.
The office of Co-ordinating Minister for Maritime Affairs in 2017 will make a priority on waste management and plastic debris reduction, drafting and analysis of budgeting for policy formulation, development of strategic industry in maritime areas, and implementation and monitoring of programmes. He further asked for support from the society, including professors who were attending the general lecture, to rejuvenate the nation unity to build the country into the future.
"The uncertain condition will still continue. So, we have to stay united in dealing with this situation, maintaining our country from falling into crisis," he concluded.