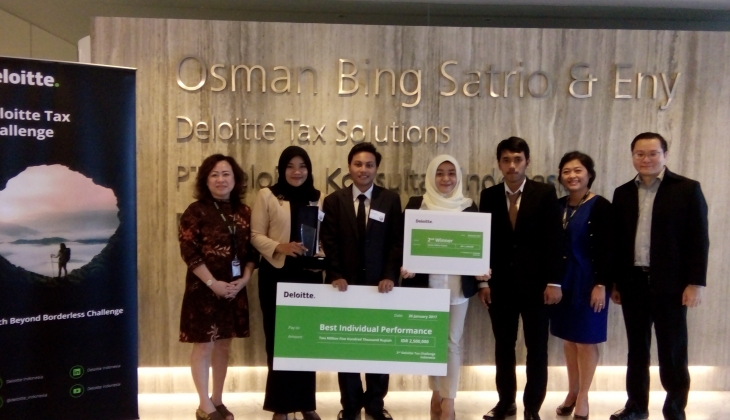 Students of Universitas Gadjah Mada continue to make achievements. This time it was Samuel Edwardo, Eringga Irfiana, Wikan Karis Basutama and Karunia Damayanti joining the Taxmanian Devil team that made UGM proud. The students of Accounting Department, Faculty of Economics and Business UGM were the runner-up of the Deloitte Tax Challenge (DTC) 2017 competition. Meanwhile,Wikan Karis Basutama was also named the Best Individual Performance who will represent Indonesia in the DTC ASEAN Round in Singapore at the end of February 2017.
DTC is the first tax competition held by the largest public accountant office in Indonesia, Deloitte. Compared to last year, the DTC this year is more challenging which is divided into three stages. The first is video selection that has been determined by Deloitte. The 14 participants selected went to the next competition at Deloitte Indonesia.
"Of those stages there were six participants being selected to go to the finals. They came from various universities, namely Universitas Indonesia, Trisakti School of Management, Universitas Airlangga, and Universitas Gadjah Mada," said Wikan on Thursday (2/2).
In the final round the finalists were given two cases related to tax issue in Indonesia and global issue. These had to be done in one and a half hours with the results being presented to the panel of juries. They were Managing Partner and Partners of Deloitte Indonesia, Melisa Himawan, Irene Atmawijaya, and John Lauwrenz.
Afterwards, the winners of DTC were named. The UGM Taxmanian came out as the second winner.
"I was very excited and proud to be the runner-up along with this super team, and I even earned the Best Individual Performance at the DTC this time," said Wikan.