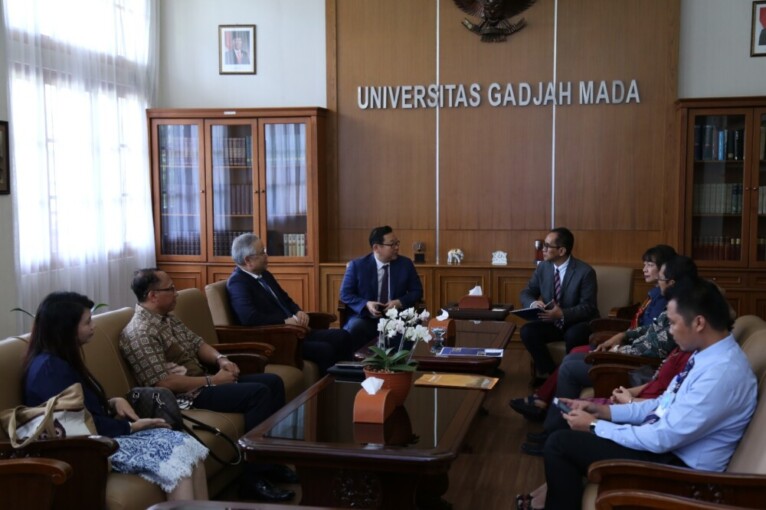 Chungnam National University (CNU) from South Korea visited Universitas Gadjah Mada (UGM) to explore possibilities with UGM to have a double degree programme on Tuesday (7/2).
"Recently, we have met with Director General of Higher Learning in Jakarta and visited several universities in Indonesia. We also visited UGM to explore possible cooperations in the future," said Vice-President of CNU, Dr. Lee Jun Heon.
The CNU delegation was welcomed UGM Vice-Rector for Cooperation and Alumni, Dr. Paripurna P. Sugarda, S.H., M.Hum., LL.M., at the UGM Main Office. "This is a very interesting collaboration scheme. It's important to have the CNU as one of our strategic partner," he said.
Collaboration with international universities, according to Paripurna, has been done at great length by UGM as one way to build international networks and improve the quality of lecturer and student.
"We want to send more students and lecturers abroad to study, but we also want more international students and lecturers to come to UGM," he explained.
Head of International Cooperation of UGM, I Made Sandi Arsana, Ph.D., added, "Previously, we have made collaborations with universities in Asia and Europe. With the reciprocity where universities send equal number of students, such students don't have to pay at the university of his choice," he said.
Paripurna proposed a further meeting in the near future between deans from CNU and UGM to discuss the cooperation in more details. Hopefully, a strong and beneficial collaboration will be established.