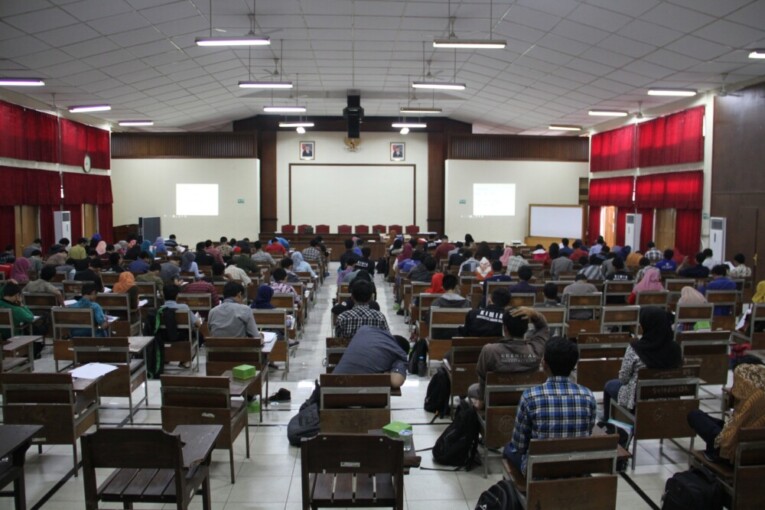 To improve the academic skills and insight of Mathematics and Natural Sciences students, the Higher Learning, Technology and Research Ministry hosts the National Olympiads for Mathematics and Natural Sciences (ON MIPA-PT) 2017. A gradual selection will commence prior to the ON MIPA-PT 2017.
The first stage selection is done by universities to elect seven students from each major (Maths, Physics, Chemistry, Biology) and the results are sent to the local Association of Regional Universities by 8 March 2017. The second phase selection (regional) is done simultaneously from 22-23 March 2017 by each Association in 14 regions.
"To provide our students with knowledge for the ON MIPA at university level, UGM would give six training for it," said Ahmad Agus Setiawan, S.T., M.Sc., Ph.D, Head of Student Creativity sub-directorate of UGM at UGm on Thursday (16/2).
Ahmad Agus Setiawan said since last year UGM had started pre-selection and selection training at university level to select the best students from each major for the competition.
"Not only that, we will also give post-selection training in each competition level. Hopefully, UGM can be the champions of the National ON MIPA competition," he said.
Roihan Munajih, chairman of UGM ON MIPA community, said the training presented their seniors who had participated at previous competitions to introduce the students to the competition. University selection starts on 26 February 2017.
Roihan added the enthusiasm of the participants was high with at least 80 students attending the training.
"They are given previous competition materials and tips to do them," said the gold medalist of ON MIPA 2016.