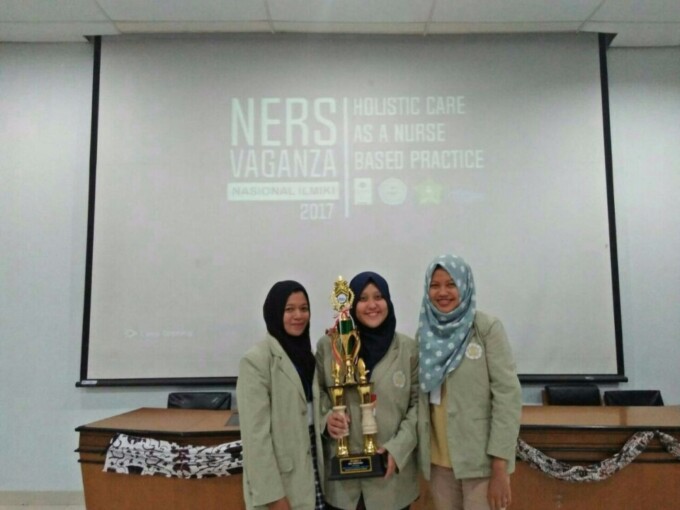 Nursing students teams from Universitas Gadjah Mada (UGM) has won two awards in the Nurse Vaganza 2017 national nursing competition. They won the first place award in the nursing skill category and third in English debate category in the competition that was organised at Universitas Muhammadiyah Yogyakarta from 25-26 February 2017.
Nurse Vaganza is a prestigious competition held by Nursing Students Association every two year regionally. This event brings together nursing students delegations from each nursing institutions across the country. There were 18 teams competing here, including 9 teams in nursing skills category and 9 teams in English debate category. They are from 13 Indonesian universities, namely Universitas Indonesia, Universitas Padjajaran, UIN Syarif Hidayatullah, Universitas Muhammadiyah Jakarta, Stikes Faletehan Cilegon Banten, UGM, Universitas Diponegoro, and Universitas Muhammadiyah Yogyakarta. Next are Stikes Jendral A Yani, Universitas Brawijaya, Universitas Jember, Stikes Wiramedika PPNI Bali, and Stikes Bima Husada Bali.
UGM team for nursing skills category has members Ayu Dwi Silvia Putri, Alfi Nurfita Chasanah and Intan Milasari. The English Debate team consists of Dimas Septian Eko Wahyu Sumunar, Lalitya Paramarta, and Destin Hidayati.
"Those teams are the winners in the regional competition of Nurse Vaganza 2017," said Ayu Dwi Silvia on Tuesday (7/3) at Faculty of Medicine UGM.
Ayu said the nursing skills team had to undergo two selection phases. In the first they had to complete 100 multiple choices test as well as performing nursing skills. Three teams with the highest scores would compete in the final for a quizz.
"In the final we opposed the teams from Universitas Brawijaya Malang and Universitas Muhammadiyah Yogyakarta. Thank God, the UGM team has been elected the winner in this competition," she said.
Meanwhile, Dimas Septian from the English debate team said that the competition was divided into three phases, namely elimination, semi final, and final. The competition used the system of ASEAN parliamentary with each team serving as pro or contra groups in a debate on a motion that was determined by the committee.
Dimas said he was proud with their achievement in winning the third place award. He hoped in the next competition, the UGM team could contribute better results.