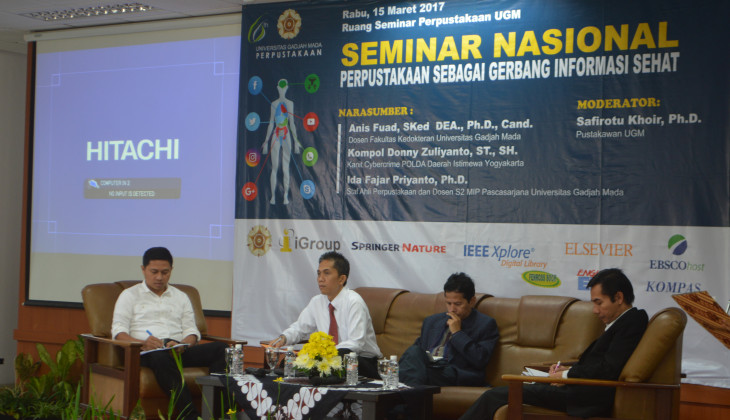 In the recent days, there are many of hoax news and information on digital media. The lecturer of Information and Library Management (MIP) at Graduate School UGM, Dr. Ida Fajar Priyanto, said library is not capable of controlling or giving more attention to information from outside the library, even though library can take part in giving accurate information.
"Library has to think ways for providing various formats of information and content which can become the center of information for the library users," said Ida on Wednesday (15/3) during seminar entitled Library as Gate of Accurate Information.
Similar with librarian, according to Ida, librarian is not capable, either, of controlling information which appears in various aspects of the world, such as news on politics, economics, business, governor election on television, as well as posts on social media. Despite staying in their circle, librarian has to be capable of giving information which can influence the library users.
"Librarian can influence the library users to choose accurate and beneficial information as well as attract non-library users to utilize the library," Ida added.
Meanwhile, Anis Fuad, S.Ked.DEA., from Biostatistics, Epidemiology, and Population Health Department Faculty of Medicine UGM, said technology development, social economic change, and interaction model differences cause the alteration of information use and access. Those developments give easier information access for the current generation.
"However, technology convenience does not ensure the generation becomes technologically literate," said Anis.
Anis said the recent generation which is called Z-generation has characteristic of accepting information instantly, because they do not have enough time to evaluate information both from relevancy aspect, accuracy aspect, and the source of news.
"They do not have enough comprehension on needs aspect, therefore they cannot develop an effective strategy for searching information," he added.
Anis hopes library can evolve in line with generation evolvement and can drive digital society to be information literate, and more able to post accurate information responsibly.
At the same place, AKBP Andrie Setiagraha from Yogyakarta Regional Police office said social media makes a broader network and even there is no boundary in communities networking. Communication becomes free and information spreads fast. However, it is tainted by communication and provocation conflicts.
"Every individual is permitted to deliver their opinion and tends to confront others who have different opinion," said Andrie.
All this while, more than 700 thousands sites have been detected spreading hate and hoax. Most of them post news containing hate, particularly related to ethnics and religions issues.
"There are many sites which give hoax information, while the society has yet to be able to differentiate between the right and wrong information," Andrie added.
Therefore, Yogyakarta Regional Police appealed the society to be smart in using social media and not to easily believe the information, particularly which can evoke conflict.