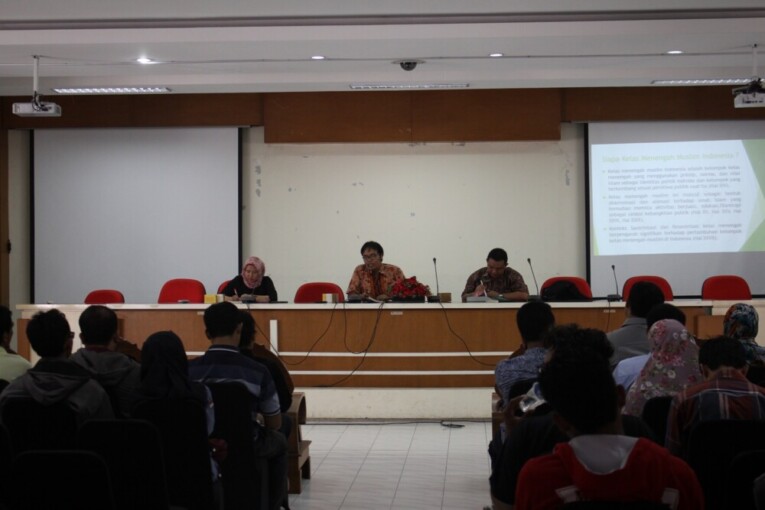 Santrinisasi and resantrisasi (the process of becoming Islamic urban group and the return of being Islamic urban group) of the middle class have affected significantly on the growth of Muslim middle class in Indonesia. This emerged in the Politics of Muslim Middle Class in Indonesia book review at Faculty of Social and Political Sciences UGM recently, inviting the writer, Wasisto Raharjo Jati, and lecturer from Politics and Government Studies UGM, Hasrul Hanif.
Wasis explained the definition of Indonesian Muslim's middle class using Weberian perspective, which is the middle class that uses principle, norms, and value of Islam as individual and group identity that grows along with political condition at that time.
"The Indonesian Muslim's middle class emerged as a form of discrimination and alienation of the Muslims that later triggers activities of bourgeoisie, education, and philanthropy as a symbol of political awakening," said Wasis.
He further explained that santrinisasi and resantrisasi of the middle class affected significantly on the growth of Muslim middle class in Indonesia. He analysed their emergence through the context of calling and world Ascetism.
"The context of philanthropy that differentiates Muslim middle class in Indonesia from its counterpart in the West," Wasis said.
Wasis also explained the genealogy of initial Muslim middle class in Indonesia that is attained through three aspects, being trade, hajj, and education.
"The examples of middle class is group of santri (urban Muslims), traders, and religious leading figures," said Wasis.
In the genealogy of middle class of Muslims in Indonesia, transformation later occured in what Wasis called as the change from 'Political Islam' to 'Civilian Islam' during the New Order.
"In this era, the formation of new middle class starts through intellectualism and modernisation tracks," said Wasis.
Wasis described that intellectualism is marked by the emergence of campus epistemic group that is based on the mosque, while modernisation starts with the emergence of sharia and Islamic products.
Wasis concludes that the Muslim middle class in Indonesia is still trying to develop their existence and political representation by trying to "adapt" to modernisation. The role of the middle class in informal politics is more active as an interest group or pressing group.