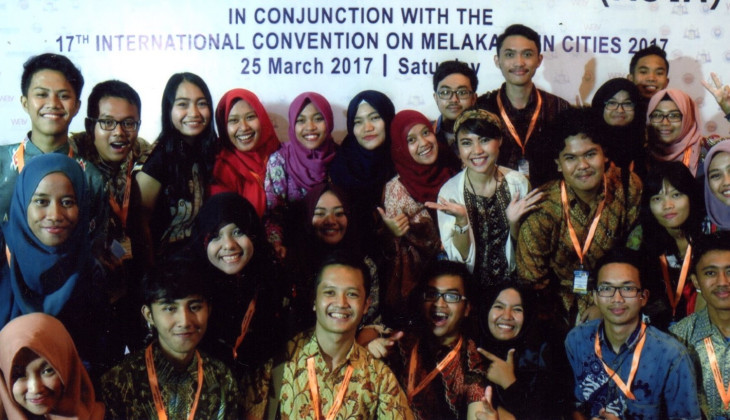 Nine students of Universitas Gadjah Mada (UGM) are selected to be the delegates of Indonesia in the Asia Urban Youth Assembly (AUYA) 2017. AUYA is an event organised by UN Habitat (United Nations Human Settlements Programe) in cooperation with Malaysian Youth and Sports Ministry and Majelis Bandaraya Melaka. The UGM students are invited to attend the AUYA 2017 from 25-28 March in Melaka, Malaysia.
AUYA 2017 involves as many as 300 delegates from 22 Asia-Pacific countries. AUYA is a platform for the youth in Asia to discuss and share experience in best-partices of urban development which involves the youth's role. The event comprises 11 Parallel Sessions,having themes such as Urban Youth and City Planning, Cultural Night, Earth Hour Walk, or Heritage City Your.
The UGM students are Aditya Pradana and Diana Febrita (Geography). Emmy Yuniarti Rusadi, Karina Oriza Herastuti, and Budi Utomo (Engineering), Shela Nur Widyastuti (Economics and Business), Dwi Thia Putri and Novia Nurist Naini (Social and Political Sciences), and Aldila Irsad Noi (Law).
"AUYA gives opportunities for the youth to get involved in drafting policy recommendation and program that can ensure the active participation of the youth in the New Urban Agenda and Agenda 2030," said Diana on Tuesday (4/4).
Aditya added the AUYA 2017 was an opportunity to share insight and experience whilst voicing the ideas of Indonesian youth.
During Hack-A-Thon AUYA 2017 series of events, Aditya and other participants had the chance to formulate solution ideas to Slum Disintegration Community problem, which will be brought forward to the 9th World Urban Forum in Kualalumpur in 2018.
"Through this forum, the role of the youth in contributing to sustainable urban development is getting bigger," said Aditya.