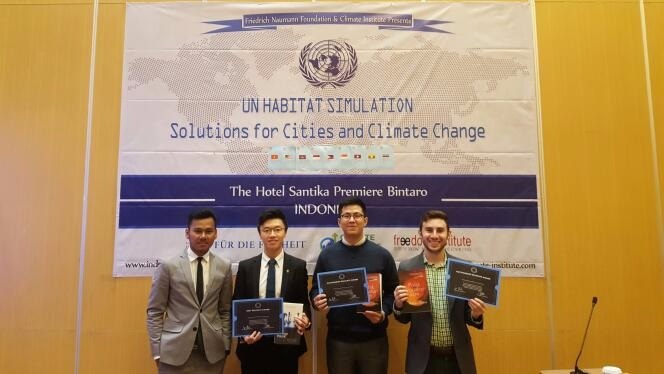 Law Student of Universitas Gadjah Mada (UGM), Wyncent Halim, made achievement in international level, In the United Nations Habitat Simulation 2017 which was held from April 11 until April 13, 2017, Wyncent earned the Best Delegate award.
UN-Habitat Simulation is a United Nations General Assembly simulation entitled Solutions for Cities and Climate Change which was held by Friderich Naumann Foundation, Germany, collaborating with Climate Institute.
This Model United Nations was attended by as many as 314 participants from various countries in Asia Pacific including undergraduate and graduate students as well as general participants. In this event which was held at Santika Premiere Hotel Bintaro, Tangerang, Indonesia, Wyncent played the role as Chinese delegate.
"I am so proud of becoming the winner or the best delegate and I am given a fully funded trip to Seribu Island to campaign on Climate Change," said Wyncent on Monday (17/4) at Faculty of Law UGM.
Wyncent said the selection in UN-Habitat consisted of two stages. The first stage was administration and interview and 27 best delegates of Asia Pacific were selected. Then, three best delegates were selected at the second stage through The UN-Habitat Simulation.
Besides Wyncent, there were 4 UGM students which were selected into 27 best delegates of UN-Habitat Simulation 2017. They were Angelo Wijaya (International Relations student), Muhammad Rizki (Faculty of Law), Irvandias Sanjaya (Faculty of Psychology), and Aditya Pradana (Faculty of Geography).
"In the UN Habitat Simulation, each participant has represented a nation. We are expected to actively participate in the discussion regarding various global issues which are routinely discussed in the UN General Assembly, particularly climate change issues," he added.
In the simulation, participants were required to write resolutions to solve climate change issues. The resolutions in the form of concrete ideas for the cities to face global climate change were presented in the forum.
Wyncent proposed a solution by implementing an emission trade system (ETS) using Cap and Trade mechanism and the establishment of Global Sustainable Urban Development Trust Fund which will be organized by UN-Habitat to help developing countries.