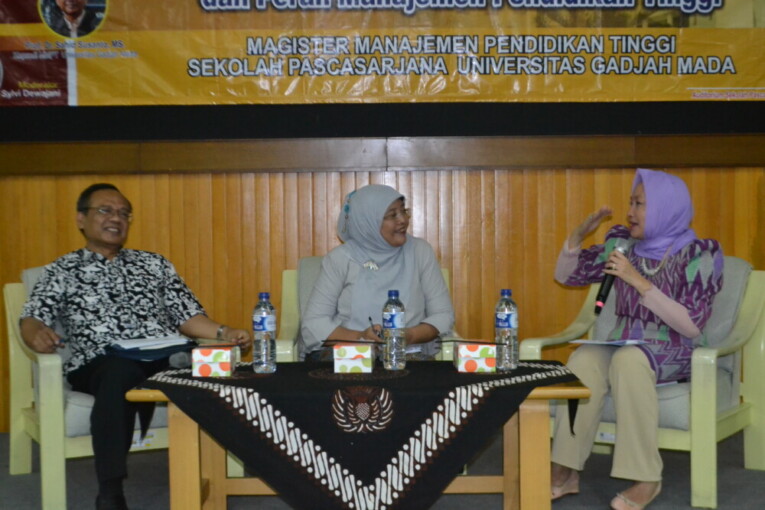 Study programme management at a higher learning institution should adapt to the need of the nation at present and the future. Hence, government, needs to encourage the opening of vocational schools and polytechnics to generate certified graduates whilst gradually reducing the number of study programmes at higher learning. The industry is also expected to progress so that it can provide large job opportunities to recruit the graduates.
This emerged in a talkshow entitled Challenge and Opportunity for Higher Learning on Tuesday (18/4) at the seminar room of UGM Graduate School. Present as speakers were Rector of UGM, Prof. Ir. Dwikorita Karnawati, M.Sc., Ph.D., and Head of Higher Learning Magister Management study programme of the School, Prof. Dr. Sahid Susanto,M.S.
The Rector said the world was now coming to the fourth industrial revolution. "The fourth industrial revolution is the era of digital technology, all is digital. If we're not going to the digital era, we will be left behind," said Dwikorita.
Higher learning, according to the Rector, ought to respond to such change through development of education management with the concept of integrated smart campus. Higher learning has to be able to improve competitiveness by producing graduates who are able to grab opportunities, analyse risks accurately, whilst having the courage to get back up after experiencing a failure.
To accelerate the state progress, the Rector said, the government needs to encourage the opening the vocational schools and polytechnics as many as possible in order that certified, skilled graduates can be generated.
"The number of vocational schools and polytechnics need to be enlarged whilst the current figure is very few. In developed countries, as high as 70 percent of higher learning comprises polytechnic or vocational school, the rest is study programme of a university," she added.
Prof.Dr. Sahid Susanto,M.S., said the participatory figure of Indonesian people to register at a university is still around 20 percent. Despite the wide opportunity for the young people to pursue higher learning, but job opening and human resource capacity enhancement are not yet sufficient.
"The indication has to be the quality. Higher learning graduates should not get unaccommodated at the work market while they have sufficient knowledge," he concluded.