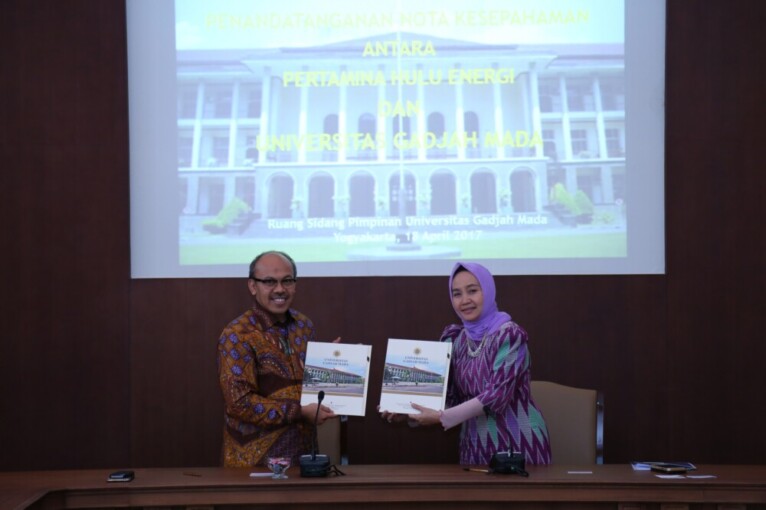 Universitas Gadjah Mada (UGM) built cooperation with PT. Pertamina Hulu Energi on Education, Research, and the Utilization of Human Resource and Science, as well as Community Service sectors. The cooperation agreement was signed by the Director of PT. Pertamina Hulu Energi, R. Gunung Sardjono Hadi, and UGM Rector, Prof. Ir. Dwikorita Karnawati, M.Sc., Ph.D., on Tuesday (18/4) at UGM main office.
PT. Pertamina Hulu Energi gave a positive response to the cooperation. This cooperation was not the first, but already the umpteenth time, and they still expect to enhance the cooperation in the future.
"We are optimistic upon this cooperation because UGM has become our partner for a long time and it has been giving many contributions for the nation," said Gunung Sardjono Hadi in his speech.
Gunung Sardjono Hadi said there are many alumnae from Faculty of Engineering and Faculty of Social and Political Sciences UGM who had succeeded to be the leaders in PT. Pertamina Hulu Energi. Therefore, this cooperation is emphasized in capacity building by sharing activity between the company and the university.
"We hope the capacity building can be performed by formal education such as through master and doctoral programs. Meanwhile, we welcome the lecturers who want to directly see our field activities," he added.
UGM Rector also has the same expectation. According to Prof. Karnawati, capacity building through master and doctoral programs at UGM has been ready, including study program of Geology which has a double degree program since 2008 by collaborating with San Diego State University on Geophysics and Geology (G and G) subject.
"We are ready to continue this capacity building program and it is strengthened by our new curriculum which needs lecturers from outside UGM. However, we also need lecturers from Pertamina to strengthen our double degree program," said Prof. Dwikorita.
UGM Rector further explained UGM has a Vocational School which has an essential role because UGM has been developing as a socio-entrepreneur university. Therefore, UGM research products are expected to not only be published in journals but also become marketable.
"UGM Vocational School plays an essential role in transferring research product from prototype into mass production, and we are preparing a location for conducting teaching industry as mini-industry which processes manufacture, health, and agriculture products," she added.