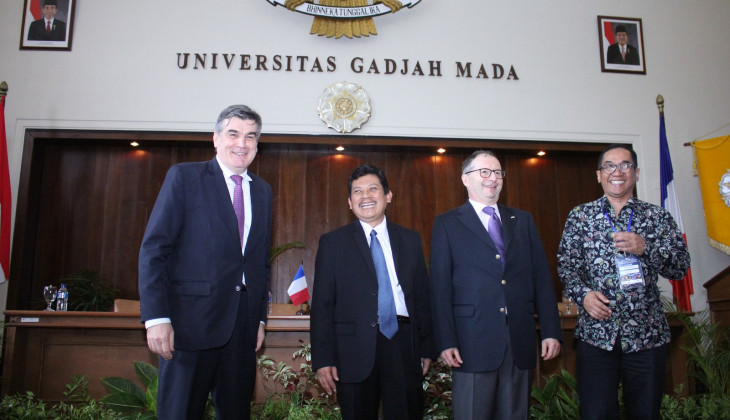 As many as 200 researchers from various research institutions and universities in Indonesia and France attended the 9th Joint Working Group Indonesia-France in Higher Education and Research. The event was held at Universitas Gadjah Mada (UGM) from May 3 until 4, 2017 in which they discussed and arranged a collaborative research plan on education and research sectors.
The meeting was opened by French Ambassador to Indonesia, Jean Charles Berthonnet, and Director General of Science and Technology Resources of Ministry of Research, Technology, and Higher Education, Prof. Ali Ghufron Mukti.
Head of International Affairs Sub-Directorate UGM, I Made Andi Arsana, Ph.D., said UGM is trusted as the host of The 9th Joint Working Group Indonesia-France. The meeting discussed a collaborative research plan in 6 strategic research areas including food and agricultural security, health and treatment, renewable and alternative energies, information and communication technology, social science and humanities as well as marine and maritime.
"Each joint group will arrange a collaborative research plan which will be conducted in a year," said Andi on Wednesday (3/5) during the meeting.
Andi further said the meeting also discussed research budget plan in the form of joint research budget as well as mobility for the researchers which is provided by Indonesian Ministry of Research, Technology, and Higher Education, Indonesian Educational Fund Management Institution, and the French Government.