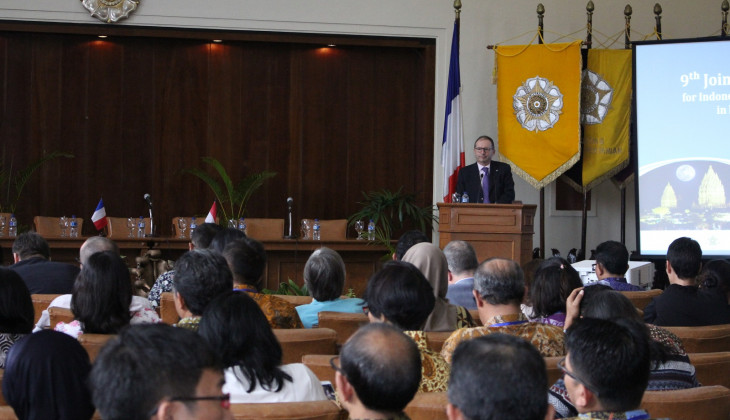 The number of Indonesian students who study in France increases every year. Until these recent days, at least 1,500 students continue their study in many French universities.
"Those numbers are expected to keep increasing," said French Ambassador to Indonesia, Jean Charles Berthonnet, after opening The 9th Joint Working Group Indonesia - France in Higher Education and Research event at Universitas Gadjah Mada on Wednesday (3/5).
Therefore, according to Berthonnet, the French government continued strengthening the cooperation with Indonesia particularly on strategic sectors, including research, technology, and higher education.
Director General of Science and Technology Resources of Ministry of Research, Technology, and Higher Education, Prof. Ali Ghufron Mukti, said Indonesia and France have agreed to conduct the cooperation on science and technology, innovation, and higher education sectors in the form of collaborative project, research programme, and innovation, including exchange for researcher, lecturer, and student, higher education and vocation, science conference, curriculum development, as well as joint degree.
"There is also an agreement to resume the Nusantara Programme in this cooperation," said Ali.
Nusantara Programme has been running since 2008. It is a collaborative research funding programme between Indonesian Ministry of Research, Technology, and Higher Education and French Ministry of International Affairs and Development. The programme focusses on several research areas, including food and agriculture, health, communication and information technology, energy, marine, transportation, social science, climate change, as well as disaster management.
Meanwhile, Vice Rector of Cooperation and Alumnae UGM, Dr. Paripurna P. Sugarda said UGM has been performing cooperations with several universities in French. The existing cooperations will be strengthened in several sectors which focus on Indonesian development. The sectors consist of forestry, food and agriculture, health, new and renewable energy, as well as social and political sciences.
"All this while, UGM has been cooperating with as many as 8 universities in France and it is expected to be strengthened in several strategic sectors in the future. This joint working group meeting is expected to strengthen UGM network with universities in France," said Paripurna.