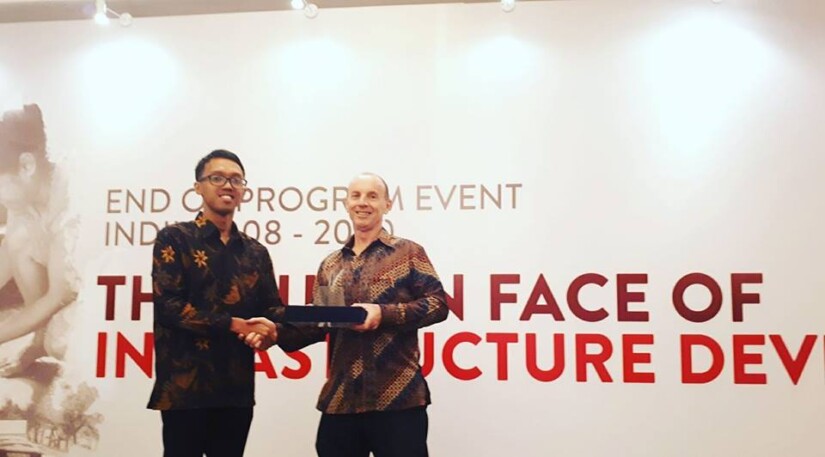 Sociology student of Universitas Gadjah Mada (UGM) was selected to be one of the winners of a writing contest, Infrastructure for All of Us, which was held by Indonesia Infrastructure Initiative (IndII), collaborating with TEMPO Institute. The competition which was the peak event of IndII programme became one of the facilities to understand the perspective and positive experience of the society regarding development or infrastructure maintenance in Indonesia.
Clean water, sanitation, and street are inseparable from human life necessities. Human needs clean water for various purposes. Therefore, clean water availability contributes in enhancing life quality of family, society, and the nation. Moreover, sanitation and street qualities are essential for people. Considering those importances, clean water, sanitation, and street have become the concern of Australian and Indonesian Governments which are realised in the Indonesia Infrastructure Initiative (IndII)starting from 2008 until the middle of 2017.
"Sanitation is the society's effort to realize a clean and healthy environment while the existence of street infrastructures, good management, and public transportation facilities are essential to sustain the economy," said Abdullah Faqih on Thursday (4/5).
Before becoming the winner, Faqih had to compete with the other 700 participants from throughout Indonesia. He wrote a paper regarding the importance of woman's role in ensuring clean water availability based on sociological perspective.
"I raised a topic on local women's participation in Central Sulawesi who are involved in the clean water facilities construction process from preparation stage until maintenance stage. Based on several research results, the local women gave a significant contribution in the development process which can be followed by other regions," he added.
His paper met the committee's criteria which led him to earn Indonesia Infrastructure Initiative Awards 2017. The award was presented by Jeff Bost, Vice Director of Indonesia Infrastructure at Mandarin Oriental Hotel in Central Jakarta during the closing of Indonesia Infrastructure Initiative programme.
Besides Faqih, another winner of the writing competition was Nurbaya, a post-graduate student of University of Indonesia who wrote a paper regarding street infrastructure at Kanupili customary community. These two winners received a prize to visit one of the infrastructure programme activities in Lombok, West Nusa Tenggara, from April 27 until 29, 2017. The winners will obtain an opportunity to visit and discuss with the program colleagues from Pringgabaya-Sembalun region and visit Rinjani area.